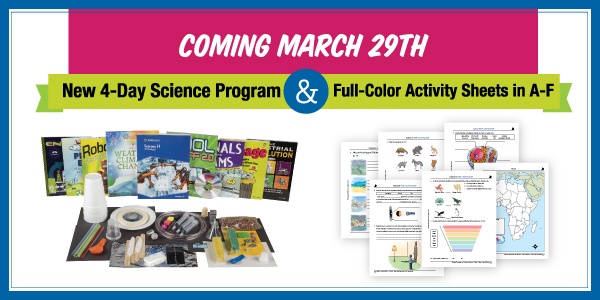 Coming March 29: New 4-Day Science Program + Full-Color Activity Sheets in A-F
Continuing on in our series of what's new in 2018, we are thrilled to announce the new Science H program, a 4-Day only Science program for Middle Schoolers (roughly 6th-9th grade), focused on technology.
In the new Science H – Technology, students will learn about some of today's hottest career markets: robotics, conservation, energy, engineering (dams and canals), and technology. This program, filled with projects, experiments, and activity sheets, will inspire interest in these fascinating fields of study. Each week your students will build things—from solar robots, to windmills, to dams.
Science H—Technology: What's Included

Science H includes eight books, a Science Supplies Kit, and an Instructor's Guide. One book will teach your students about the technology that shapes our world, such as the engine of a hydrogen-fueled car and the earthquake-proof structure of the world's tallest building. From game consoles to space planes, they'll learn the science behind every gadget, and find out when and how things were invented.
Other books cover:
Energy: the history and science of the world's energy sources, from nonrenewable fossil fuels such as oil and natural gas, to renewable sources such as solar and wind
Planet Earth: wind and solar power, pollution, endangered species, global warming, and recycling—along with potential solutions
Robotics: found today everywhere from industrial manufacturing to vacuuming homes, your children will come up with creative solutions to tricky problems by making their own simple robots
The Industrial Revolution: the dynamic individuals and revolutionary innovations that impacted the lives of rich and poor, city-dweller and farmer, and changed the course of the modern world
Garbage: what happens when you throw things "away"
Canals and Dams: from ancient aqueducts to the Hoover Dam, investigate amazing waterways and barriers
Weather & Climate Change: see the world of weather in dramatic photos and lively illustrations
This new program is especially ideal for the curious, the tinkerer, and the students who are interested in STEM fields.
Full-color Activity Sheets for Science A-F
Also New for 2018 — Full-color Activity Sheets for Science A-F! Available March 29.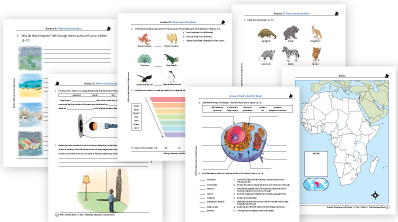 Clear details and vibrant colors for easier understanding of scientific concepts and questions.
These beautiful illustrations are sure to engage and delight your students — enhance your student's study of the world!
The re-illustrated, colorful Activity Sheets that were so well-received in Science A will now be available in all Science programs A-F.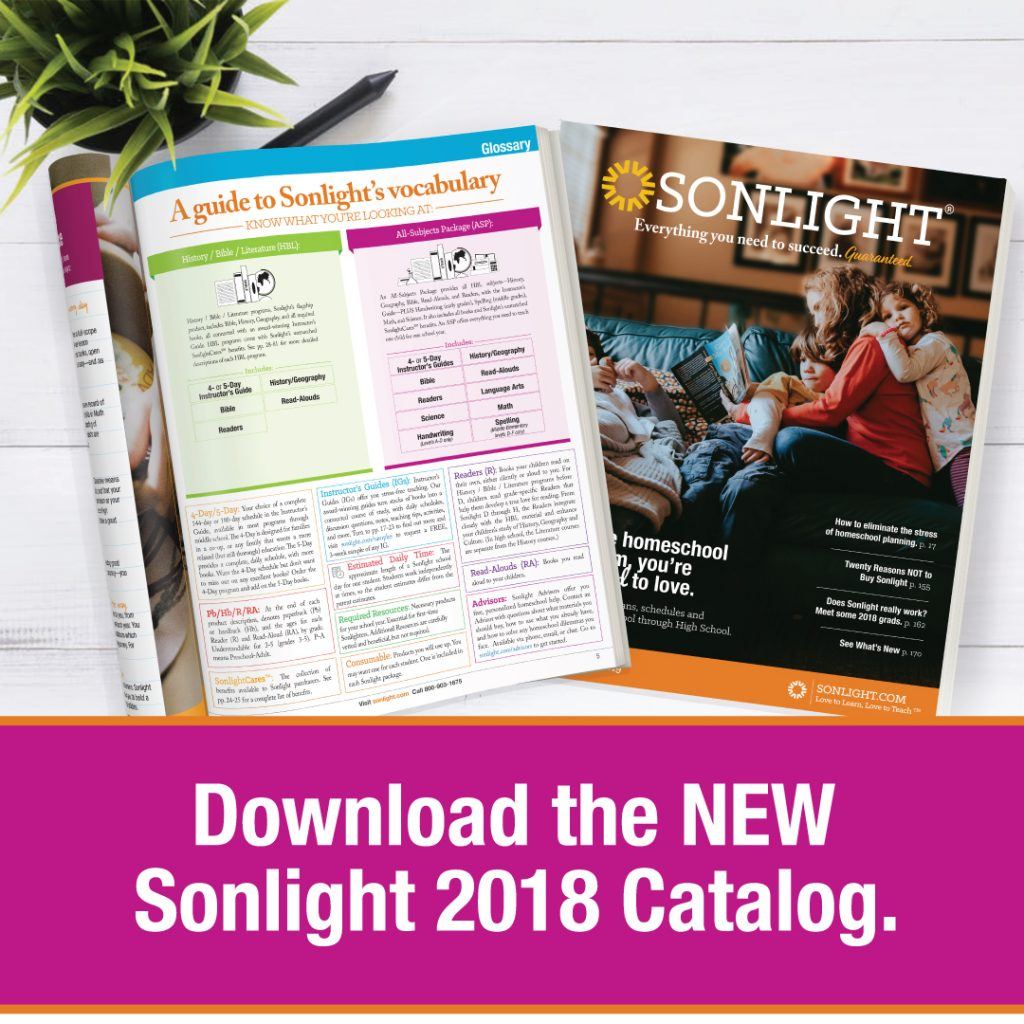 To find out more about Sonlight's unmatched Read-Alouds, and our complete book-based homeschool programs, order a complimentary copy of your catalog today.