"Every Ramadan, my mom would make a huge thing of baklava as a treat for after the sun went down." It's lunchtime and we've been talking food again. Who doesn't like food? Thinking about baklava, my mouth is starting water.* Shawarma. Gyros too (no matter how you pronounce that word, those sandwichy things are delicious). The guy I'm talking with comes from a Muslim background. He keeps quiet about where he is currently with religion. Muslim? Agnostic? I don't know. But he and I can connect over food.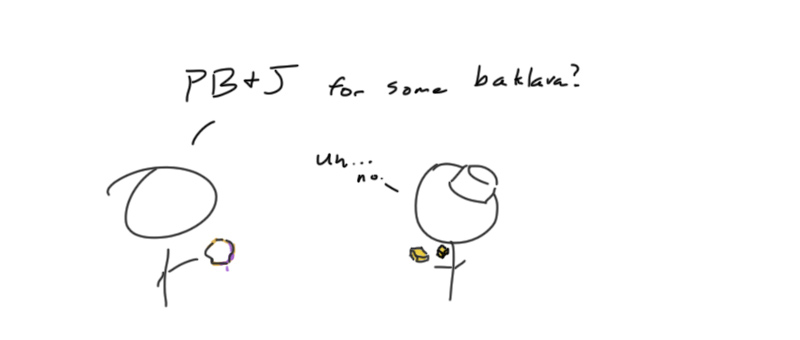 PB+J for Baklava? I wouldn't make that trade...
Falafel.
Islam is all over the news these days. It's uncomfortable for me to even write this post because of how tense things are. Politics are in play. Human lives are affected. This is real. This is life. But almost a month ago I attempted to plant a seed for this moment. I urged us not to isolate ourselves. I did so intentionally in preparation for today.
Because today we are launching our next Giving Opportunity.
What is a Giving Opportunity?
You know that Sonlight is dedicated to missions, giving 50% of company profits to reach those who have yet to hear about Jesus as Savior and Lord. But we want to do more than that. That's why we extend an opportunity for you and your children to get involved every year. Together, we partner with amazing organizations to provide literacy programs, Bible translations, radio broadcasts, and more. We match your generous gift dollar for dollar. These projects are a way to help your children see the global need and how they can make a meaningful impact.
Giving Opportunities are educational as well. We get to learn about far off places in the world and the people who live there. We see glimpses of their lives and revisit our desperate need for grace as we see how it changes hearts and minds. And then we invite you to take part, giving a few dollars which will be doubled to transform the world.
This year is no different.
What is this year's project?
Off-road Encounters is a series of 13 videos each with 8 activities that let you discover various parts of the Muslim world. As you learn more about Islam and the people who follow it, I think you'll discover a renewed desire to see Christ transform their lives as He is doing in your family.
Many of the videos feature food.
When you sign up, you'll get a cool welcome kit for each of your children (sign up now so it arrives before the videos launch later this month). And remember, signing up is not a commitment to give. But the chance to bring the transforming power of Christ to the lives of over 1.5 million Muslims -- or 150 with as little as $28, doubled with the Sonlight match -- is an awesome opportunity I hope you won't pass up!
Sign up and then maybe eat some hummus...
~Luke Holzmann
Filmmaker, Writer, Pseudo-Dad
* Why does blogging so often make me hungry?