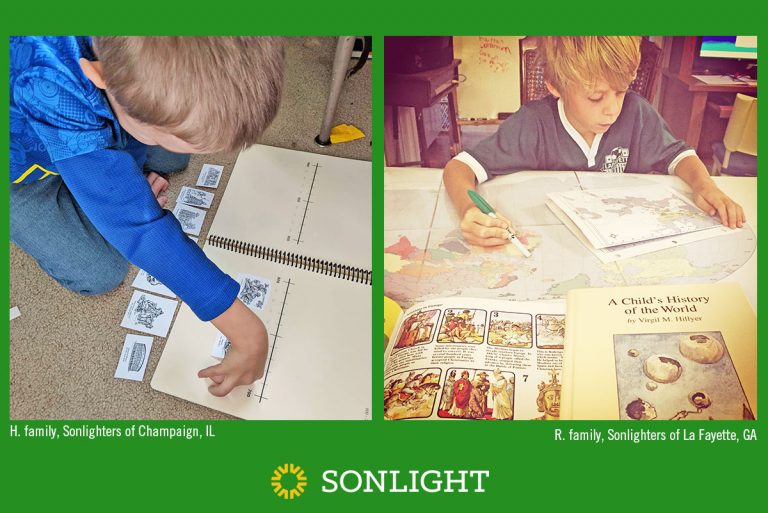 "Already they are making connections when we add new stickers and they notice what else is already on the page!"

—Cynthia H. of Champaign, IL
"One of our favorite parts of Sonlight curriculum is using the maps. I am a missionary kid who grew up all over the world and was always fascinated by maps. The world is a big, beautiful place and I am determined to teach my children (who are being raised in America) the value of other peoples, cultures, and other ways of thinking. I am so thankful for a curriculum that helps me do this."
—Sarah R. of La Fayette, GA
---
Mentally, I am fully convinced of the value of timelines and mapping. But in practice? I often treat them as if they are simply too much to fit into our homeschool schedule. That is, I skip them.
Yes, I admit it. Because I don't prioritize them, these two elements of our Sonlight curriculum often get squeezed out of our school days. I've come to realize that I need to create a time and space for The Timeline Book and the Markable Map. Here are three parts of my resolution to do better about actually using both the timeline and maps—no more forgetting, no more skipping.
1. Make The Timeline Book and Maps Something to Look Forward to
When our children love The Timeline Book and Markable Map, we will be more likely to incorporate them into our day. Here's a list of ideas to help our children fall in love with these two learning tools:
Make it a privilege: A friend of mine rotates the privilege of coloring the timeline figures among her three daughters. Over the years of homeschooling, coloring the timeline figure has become the opportunity that they all prize.
Use color: Allow your child to color each figure with colored pencils while you read aloud.
Use fun markers or stickers: Would a new pack of favorite-colored markers help to make the maps more fun? Or removable stickers can mark the location of certain characters and stories.
Personalize it: Would it help to include your child's personal moments in The Timeline Book while you're updating it for the history curriculum?
Make it a game: Would it be fun to play a weekly or monthly Review Game and update The Timeline Book and maps all at once?
Sing a Theme Song: Would a catchy tune help to make The Timeline Book and map time special? (Even the most musically-challenged of us can make something out of "It's Timeline time, timeline time… let's get out the stickers and markers!")
Motivate with snacks: Plan to update The Timeline Book and do the mapping activities while you enjoy a delicious afternoon snack.
2. Include The Timeline Book and Maps in My Schedule
It may seem obvious, but I need to face the fact that updating The Timeline Book and doing the map work require a certain amount of time. If we want to work with consistency, we need to include them in our daily schedules.
I always schedule time for history, science, and reading aloud, but I do not schedule 10 extra minutes for the timeline or maps. I am going to incorporate these two elements in our schedule for next year, actually writing them down where necessary.
3. Display The Timeline Book and Maps
We pay attention to things that are in full view and tend to forget about the books and projects that are stuffed in the closet or crammed between books on a shelf. It's important to create a space where The Timeline Book and the maps are proudly on display. For example, I've moved a small end table to the kitchen in order to prop up The Timeline Book in a picture frame holder and hang the Markable Map next to the CD player that we use for our Bible Memory songs. Where could you display these important resources so that they are likely to get your attention in the midst of a busy homeschool day?
Veteran homeschool moms agree: we won't regret investing time and energy into these important elements of Sonlight curriculum. This year, let's take a step in that direction and actually use our Timeline Book and Markable Map!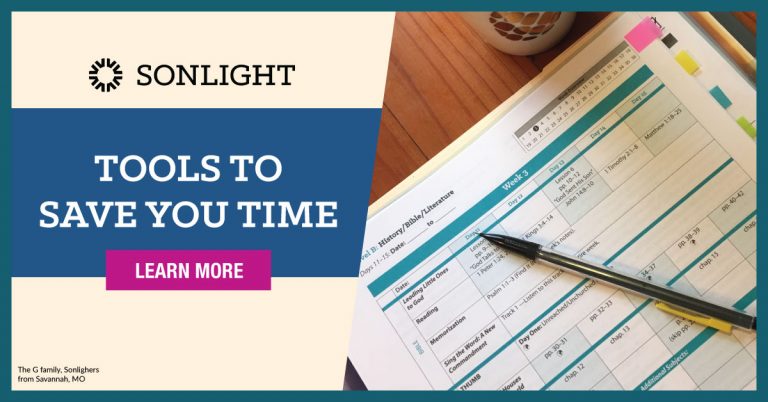 Your Sonlight Instructor's Guides tell you exactly where to place your timeline figures and how to do the mapping activities. Learn more about Sonlight's guides here.