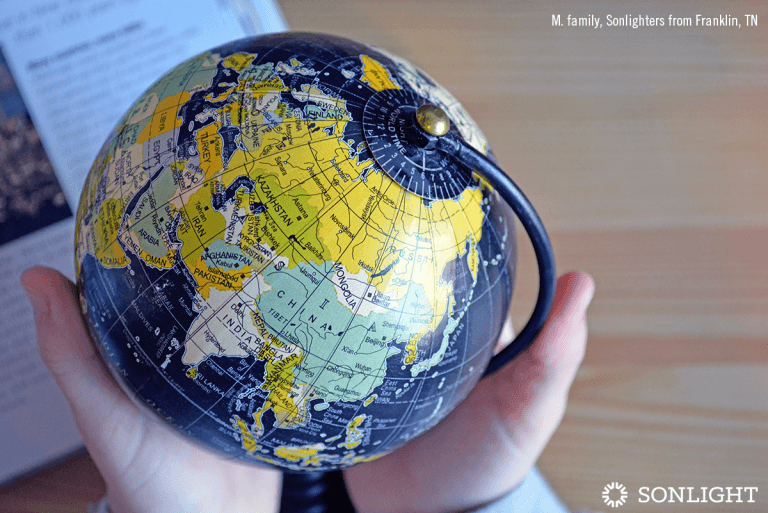 Of all the reasons I love our Sonlight education—
learning through real-world books, not rewritten sources,
developing (rather than simply reciting) a worldview, and
connecting geography, history, and culture through human stories
—perhaps my favorite reason is how Sonlight also includes wider, global perspectives. After all, how many other homeschool publishers allocate an entire year to non-Western civilizations, as Sonlight does with History / Bible / Literature F's survey of the Eastern Hemisphere?
And of course, I love the missions-minded focus, too. As a young adult and former missionary kid, I was convinced I'd end up back on the mission field (my heroes were women like Amy Carmichael, Isobel Kuhn, and Gladys Aylward.) Instead, God called me to stay in America, and subsequently to homeschool. So a missions-focused company like Sonlight just makes sense to me.
In fact, did you know that one of the ways homeschool families can support missionaries is simply by placing a Sonlight order?
1. Support Missionary Families by Purchasing from Sonlight
Over fifty percent of Sonlight profits goes to missions and charity. Did you realize that? Fifty percent! When you're purchasing your History / Bible / Literature sets and choosing your math curriculum, you're also giving to the work of missionaries around the world. That's something to consider next time you're weighing the pros and cons of hunting down used books versus ordering a full package directly from Sonlight.
And Sonlight hasn't chosen the missions organizations haphazardly. If you've spent any time in your big blue binder, you'll recognize the acronym THUMB:
Tribal
Hindu
Unreached / Unreligious Chinese
Muslim,
Buddhist.
Sonlight's carefully selected reputable charities—like the Far East Broadcasting Company and the Seed Company —to receive fifty percent of the company's profits. And Sonlight often partners with other ministries for special missions projects, too.
The cost of your school books this year is fueling the gospel in the far ends of the earth, while you're laboring in the trenches at home. How incredible is that?
2. Support Missionary Families by Developing a Global Perspective
As Christians, we serve and pray to a global God. It only makes sense that this world-encompassing perspective should extend to our homeschool journeys as well. Embrace the joy of learning about countries and cultures other than the one you're in right now! A Sonlight education helps us see that every part of the world holds a human story.
We're currently working our way through Window on the World as a part of History / Bible / Literature C. This book is such a wonderfully holistic way to present geography in context of the people who live in the ninety or so most unreached areas of the world map.
Approach cultural geography with a sense of wonder. Don't simply learn the stories of missionaries, but also dive into the incredible diversity of the people and culture in which they serve. Then pray for them.
3. Support Missionary Families by Writing Personal Letters
As a missionary kid, few things were more thrilling than a handwritten letter from America.
"Letters are awesome!" agrees Marie B., who currently works with abandoned children in Romania and has two children of her own. "Even something as simple as a sheet of stickers for each kid—and always include a family photo of yourself."
Try to imagine what it must be like to send out countless newsletters and emails chronicling every last detail of your ministry and life, and hear very little in response. Just as you want to be connected to the missionaries you support, missionaries in turn want to be connect to you. "Respond to their newsletters," suggests Leona O., a physician and mother who served overseas with a global medical mission organization, "[and] share about your own life."
The buoying encouragement of those letters makes more of a difference than you know. And when you hear back from missionaries, really listen to what they have to say.
4. Support Missionary Families by Allowing for Cultural Differences
Maintain a global perspective. At times, you may encounter missionaries who run their ministries in a way which seems foreign to us, but is completely customary where they live. Remember that the Americanized Western way, while more familiar to most of us, is not the only way.
And understand that missionaries—kids and parents alike—often are caught in an impossible place between two cultures. As Marie, raising America-born kids in Eastern Europe says, "Don't ask us if we miss America. It's a no win question." Instead, do all you can to encourage those who've given up everything familiar and comfortable to serve faithfully abroad.
5. Support Missionary Families by Sending Packages (But Ask What's Needed)
The items missionaries really miss from home are uniquely individual to both the missionary family and the area in which they serve. Ask directly. And if the response surprises you, don't override their requests, even if they seem odd or insignificant. (My favorite care package memory from my missionary kid childhood? Brand new American underwear!)
Leona, who lived in Nepal, echoes this. "Ask what things they need or want," she says. "Perhaps peanut butter is actually widely available where they live!" Marie adds, "If you have the money to send a care package, just take the surprise out of it and just ask what they need. Getting a package that cost fifty dollars to ship filled with things we can get at the store here is a tad disappointing."
And support missionary families monetarily, too! Overseas cost of living can be very expensive, and medical bills, furlough travel, visa costs, and other expenses take a toll.
Integrate Missions into Your Homeschool Day
As homeschool families, our flexible schedules and time at home gives us the ability to real pour time into supporting missionary families overseas. Instead of another essay, have your child write a letter to a missionary kid. Assign encouraging Scripture copywork, embellish it with color and design, then mail it to a missionary family. Allow kids to earn extra chore money that'll go to supporting a missionary family. Set up a pen pal relationship for a cultural exchange. Add missionaries to your daily prayer list.
And with your kids, research the missions organizations you're supporting with your Sonlight purchase—
The Seed Company
Mission India
Far East Broadcasting Company
Frontiers
—and find out what a difference you're making...as you're Sonlighting!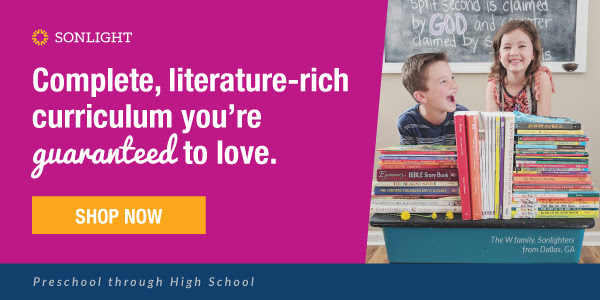 Take advantage of our 100% guarantee. No other homeschooling company can match our Love to Learn, Love to Teach™ promise. You can order with confidence that either you will have a great year, or you will get a full refund.