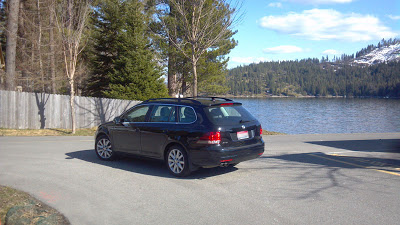 A few weeks ago my husband and I bought a new car. It's a perfectly lovely car with lots of nice features. My husband, who enjoys driving above all things, says it's a "driver's car." One of the first things he did was read the Owner's Manual cover to cover. Next, he went online and found the forum for owners of this particular make and model. Then, he started making modifications to this perfectly lovely, brand-new car.
Being somewhat of a techy/geek as well as a self-proclaimed "gear head" he found out that he could connect his laptop to the car's internal computer and make adjustments to some of the features. He fixed it to where the heated seats will come back on the next time the car is started, if we leave them on. Before, we had to go to all the bother of pushing the button again! He programmed the key fob so we can open the windows remotely, not just the door locks. He adjusted the speedometer to be more accurate, and he did something to the head-lights and turn signals. You see, this is his car. As long as I've known him he has delighted in working on his car and making adjustments to it, even if there's really not a thing wrong with it.
It reminds me a little bit of Sonlight's Instructor's Guides. They are perfectly good guides. Completely usable right out of the box. But even better than that, they are easy to tweak to fit my family's situation and needs. At the beginning of the year, I go through my Instructor's Guide cover to cover. I want to get a feel for what's included and what we'll be studying. Then, I go on the Sonlight forums for that particular level to see what other families are doing. After that, I start making modifications.
I can rearrange the pages of my Instructor's Guide if I want to. I can choose to skip certain books. Or I can add in extra books. I can swap a Reader for a Read-Aloud. I can plan hands-on activities for enrichment. I can mark the date we complete assignments for record-keeping purposes.
The nice thing is, I actually don't have to start in modifying it at all, if I don't want to. Just like the new car, my Instructor's Guide is just fine the way it is. It's completely up to me!
Enjoying the adventure,
~Karla Cook
Lifelong Learner