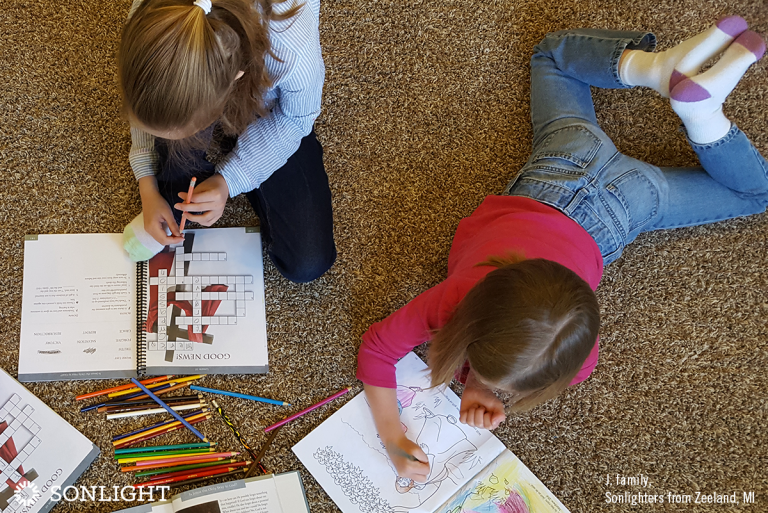 When you are a homeschool mama with many young minds to nourish, finding a way to streamline home education holds heavy appeal. I've heard some people compare homeschool moms to teachers and say it must be easy when you don't have 30 kids to teach. Sure! Instead we juggle multiple grades, climbing toddlers, dinner prep in the slow cooker, doctors appointments, and maybe even a basket of laundry or two.
In just a few years, I will be teaching four children. Even by combining my children for Couch Subjects such as history, science, and read-alouds, there are a lot of subjects left to cover individually for each child. Just thinking about it makes me want to flip the switch on the coffeemaker for a fresh cup of coffee.
I chose this lifestyle, so I accept it with little complaint; however, I also know that I need to be intentional to get through the school year well—one day at at time. A few years back, I began using a daily morning time with my two middle children who were close in age. My purpose was to complete their schooling in a short amount of time. Throughout that year something unexpected happened: My oldest wanted to listen in to her siblings' stories!
Towards the end of that year I realized, morning time could easily be something all the children could participate in together. I spent some time that summer creating a morning time that would include all my children. I was a bit uneasy, knowing that a good chunk of our day is in the morning.
How can a homeschooler get everything completed each day and simplify the day? I knew if I wanted to simplify our days, morning time was the best way to do it. Over time I began to see many benefits to starting our day off with morning time.
Benefits We Gained from Family Morning Time
1. Simplicity
Morning time takes place sitting on the floor, gathered around a single book. A few subjects involved notebooks for the kids. I read aloud while each child had a notebooking journal or coloring book. By the time we finished each morning, we had 4-5 subjects completely done for the day without my feeling entirely depleted by it.
2. Connection
As often as I can, I attempt to keep morning time unhurried. As a recovering type A homeschool mom, this is my moment of the day to remain focused on connection above productivity. If we are in the middle of a deep conversation about the Bible or Science, we just keep digging deeper. This is my chance to make time for fairy tales, silly poems, fun songs, and whatever other things I have the tendency to cast aside because they "aren't productive."
3. Togetherness
As a second generation homeschooler, I know that simply being together is often the most important and overlooked element of our day. My best memories of my own homeschool years are not all the boxes my mom ticked on her checklist but the moments we learned together.
Giving our kids an excellent education is important, but the relationships we are striving to build each day are equally as important. Morning time has given my kids a chance to work, laugh, and learn together as the foundation of each day.
4. Fun
Learning is not always going to be fun, but it is wonderful to start our day off with the subjects we are more likely to enjoy together. Art, music, and poetry are all subjects that bring my kids joy and get our day off to a breezy start.
What to Include in a Family Morning Time
When choosing what to include in our daily morning time, these are the general categories I try to cover. Fortunately, my Sonlight curriculum contains all of these elements, and I simply keep the materials together in one convenient spot. I've listed a few example books that we are using currently.
1. Something Biblical
Read a passage of the Bible out loud, work through a devotional book, or study apologetics together. Relaxing on the floor, reading God's word has elicited wonderful questions that challenge and strengthen my faith alongside my kids'.
2. Something Mission Focused
Savor a biography or collection of short stories about missionaries. It could be a prayer guide that brings focus to places and people groups around the world who are unreached by the gospel. These stories are powerful ways we can learn about God's amazing power each and every day.
3. Something Awe Inspiring
I try to choose a subject that points our kids to the amazing glory of God's creation. Science or Nature study is perfect for this goal.
4. Something From The Past
History gets a slot in our morning time routine. Sometimes we use a book retelling true events from the past or sometimes we choose a Read-Aloud that's historical fiction.
5. Something Beautiful
I look forward to this part of our morning time! Dwelling on poetry, a work of art, or art created by God (nature) is calming and refreshing.
6. Something Musical
Last year I focused primarily on teaching fun toddler & preschool songs to all my kids. The older kids enjoyed passing down to younger siblings the songs they already knew. During Christmas, we studied The Nutcracker which was a highlight for all of us. On future mornings, we will learn about a composer, a hymn, or a piece of music.
7. Something to Remember
Each morning, I provide something for my children to tuck away in their hearts and minds. It could be a Bible verse, a lovely poem, or even a short saying. One year we memorized one Bible verse each week for the entire year; we had 36 verses memorized by the end of the school year!
Sonlight Curriculum is filled with resources which can be used to create a morning time focused on what is most important to our family. To start each day working together, with our hearts turned toward Christ, God's plan for my children becomes my primary focus instead of my own plan for them. As a homeschool mama, I need that reminder that He is in ultimate authority over our days and I am only a facilitator.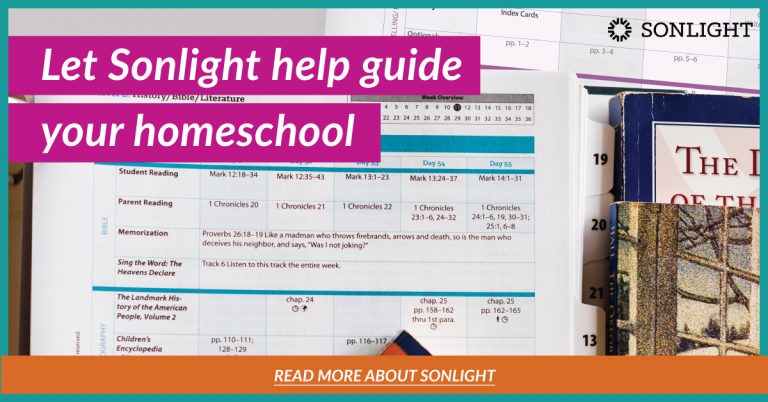 Try three weeks of any Sonlight Instructor's Guide for free. Click here to get one for any level, preschool through twelfth grade.