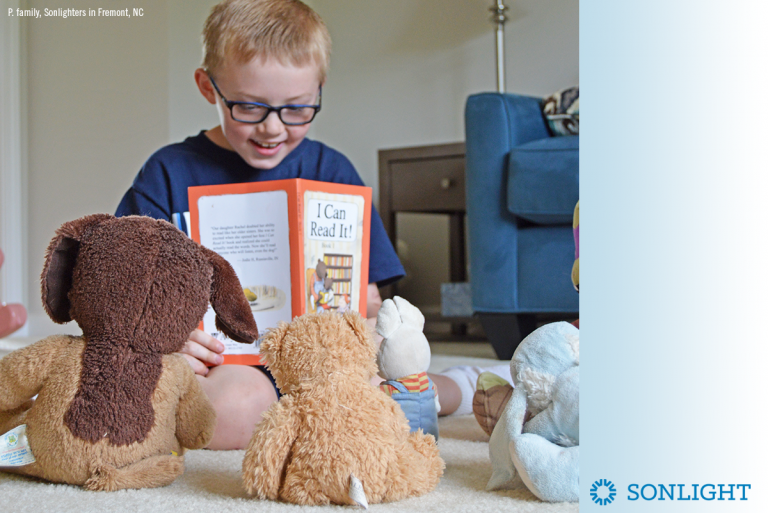 One of the greatest benefits of homeschooling is that kids can learn at their own pace. Those who excel in a subject can move ahead at breakneck speed, while those who struggle can slow things down to a
manageable pace.
Each of my four children started reading at different ages and with different levels of challenge or ease. And with each child, we've taken advantage of the freedom homeschooling allows when teaching reading.
1. Let the Delayed Reader Set the Pace
Our oldest child started reading at the age of what I consider the early side of average. Our second hit the same milestone one year younger, unquestionably an early reader. Along came our third child, and I soon realized it was going to be a totally different scenario with her.
She was learning letters and their sounds, and she could sound out words. But reading wasn't clicking like it had with the older children. I briefly pondered whether she may have dyslexia or poor vision. Then I recalled all my friends whose children have been late bloomers in the reading department. There was nothing wrong with them physically to keep them from progressing; they simply needed more time. Eventually they caught up to their siblings and peers so that no one would ever suspect they'd had a slow start to reading.
I chose to take full advantage of the fact my daughter didn't have to keep up with a classroom of other students and instead followed her lead when moving forward with reading lessons. She was a slightly delayed reader, operating on her own time table. And that's okay!
After all, I've never met an adult whose life greatly benefited because they learned to read early at 3 or greatly suffered because they learned to read at 10.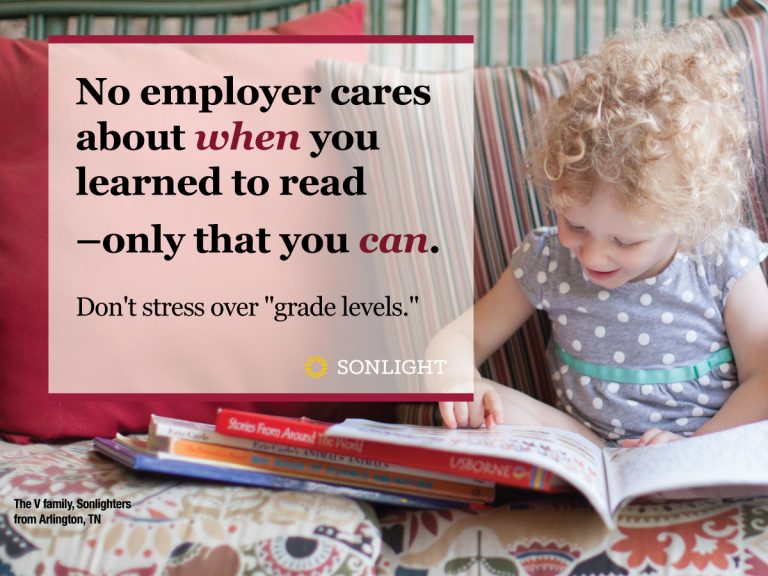 I found ways to accommodate my delayed reader's need for extra time and effort:
We'd share the task of reading, alternating paragraphs or pages to practice reading skills without her being overwhelmed.
She listened to the audio version of some school books while following along in her own print copy, allowing her to become more familiar with words as she saw and heard them at the same time.
We stretched two HBLs over three years.
A Story from a Fellow Sonlighter
Wondering if this approach works? Read this testimonial!
2. Get Professional Help for the Delayed Reader
My strategies worked well for quite a while. Then she developed what appeared to be a tic. Long story short, she needed glasses. Of course, the tightly wound part of me—which I have to confess is most of me—immediately regretted that I hadn't acted on that fleeting suspicion of vision problems when she was younger. Then I took a deep breath and realized it was fine.
Yes, if we had resolved this problem much sooner, life would have been easier for both of us. But I don't regret for one minute the gifts our family gleaned through the experience:
I learned to slow down.
Her siblings learned patience with her as she struggled with something they found easy.
I got to spend extra time one-on-one with her.
I'm also grateful that letting her set the reading pace kept it from becoming something to dread. Even though it was hard work for her, she always enjoyed reading.
One of the things we learned through this process is that our local school district does vision screenings for kindergarten students, a service our kids obviously miss out on. So when our fourth kid was in kindergarten, we went to our optometrist's office for a routine exam. We'd seen no indication of vision problems, but wanted to err on the side of caution. It turns out his vision was even worse than his sister's. He's been wearing glasses ever since and has never struggled with reading.
Choose Your Plan of Attack
If you find that one of your kids is an academic outlier who falls on the struggling side of the spectrum, I encourage you to slow down, find new ways to approach whatever subject they find difficult, and see if a little extra time is all your delayed reader needs.
I also encourage you to seek help from outside resources if there's a possibility of something more than just a need for more time. You may rule out physical issues first and relax into a slower pace if there's nothing wrong, or you may slow down first and seek help only if things don't improve over time. Either way, your child will benefit from being able to move forward at a speed that's neither too easy nor too difficult for them.