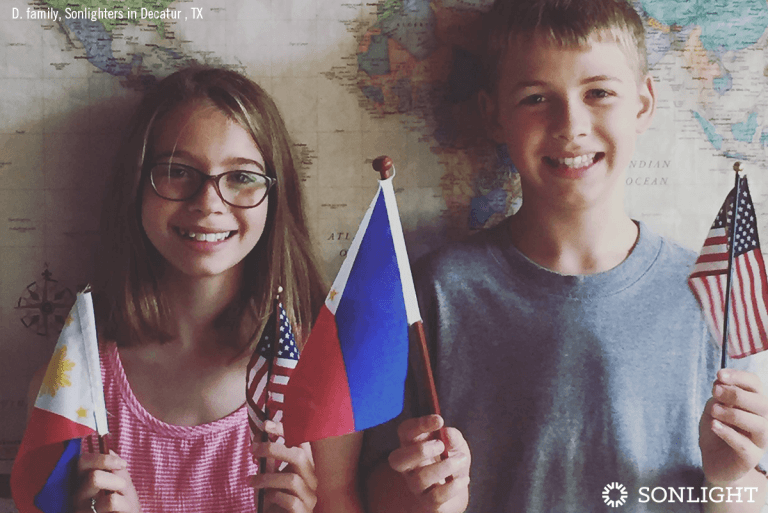 No matter your reason for choosing to homeschool—the academic advantage, an education tailored to your child's needs, the opportunity to experience math, science, and history through the lens of faith—as Christians, we know that our job as parents is a multi-faceted one. Yes, we need to give our children solid math instruction, but our greater call is to mentor them in Biblical truth.
Chief among those truths is The Great Commission, which calls on Christ's followers to multiply His Kingdom:
"Go therefore and make disciples of all nations, baptizing them in the name of the Father and of the Son and of the Holy Spirit." --Matthew 28: 19
It's a tall order, and one that we need to be active in as we gather around our dining room table and explain the difference between nouns and verbs. But to fully complete the circle of instruction, our children need to realize that it's their job to do the same.
Thankfully, it's not hard to give your children a vision for what they can do to partner with Christ in spreading the Good News. Here are five ideas to create a family culture that introduces others to Christ.
1. Join Sonlight's Giving Campaign
Each year Sonlight partners with a missions organization. The 2018 giving campaign is Experience India with Mission India. Your family will learn more about the Hindus and Muslims in one of the world's largest mission fields and begin to understand exactly why the light of Christ brings freedom to those trapped in false religions. Through the Children's Bible Club, Indian children meet Jesus, and your children will begin to grasp how they can pray, fund raise, and spread the word about projects working to share the Gospel.
2. Read Missionary Biographies
Sonlight is chock full of incredible missionary tales; you'll meet Mary Slessor, George Mueller, William Carey, and a host of other believers who sacrificed much to devote their lives to serving Christ. But don't stop there! The biographies of missionaries are great tools for showing children that God uses all kinds of people in all kinds of ways… and they may be called on to do the same!
3. Adopt a Missionary Family
If you don't already support a missionary family personally, I urge you to do so. Even $10 per month can make a huge impact in the work of reaching the lost. If your church is active in supporting missionaries, ask for contact information and assemble a small care package for them, or ask what their needs are. Not everyone can go to far-flung places, but everyone can play a part in supporting those who do.
4. Create a Missionary Prayer Album
Nearly every missionary has a prayer card—a postcard-sized photo listing their location, outlining their work, and sharing their needs. Collect these cards as you meet those engaged in the work of spreading the Name of Jesus. Punch a hole in the corner, and place them on a ring. When your family gathers for devotional time, pray for one of the families on your list by name, and remind your children where they work and how they are being used to fulfill the Great Commission.
5. Find a Local Gospel-centered Ministry
My town has a nighttime homeless shelter which allows believers to visit during daylight hours, when it's empty, to leave cards on each bed and pray over the space. This is a great way to make an impact close to home, and to sow the seeds of outreach in even very young children. Soup kitchens, clothing drives, knitting for infants in NICUs… there are countless ways to tell others about Jesus in your own community.
Now, go! Make disciples of your own children… and give them opportunities to do the same.