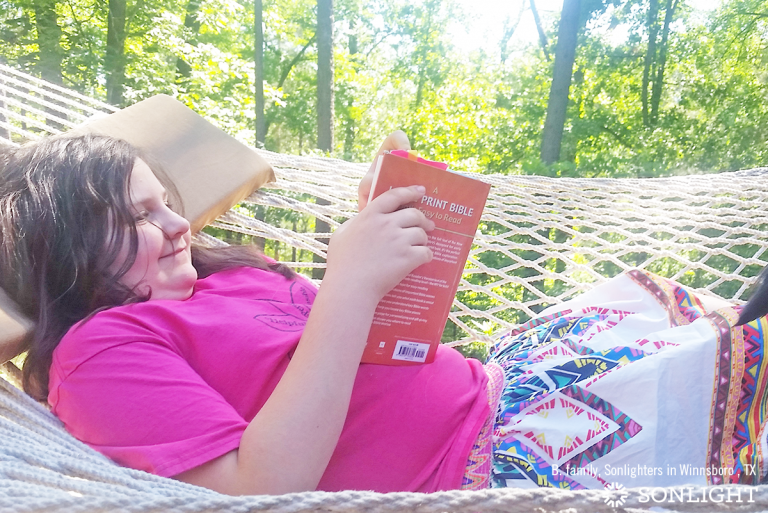 Seven years ago when we began our homeschool journey, my goal was simple. We wanted to raise children to love the Lord with their hearts, minds, and souls, and to love their neighbor as themselves. We figured that if we were diligent to teach the Word of God, the rest would fall into place.
The Lord has abundantly blessed that desire of our hearts. One reason we chose Sonlight was because Bible study is built right into the curriculum. Over the years, we have all come to love Bible Time in the mornings. In fact, it's probably my kids' favorite part of the day. It has looked very different from season to season, as my kids have grown and matured, and we have learned a few ways to extend the plan with these extension ideas.
Oh, and don't worry...glue, glitter, and sequins are not a requirement!
1. Bask in the Simplicity
There is something really special about sitting down with your family armed only with prayers and your Bible. One of the things we have appreciated so much about the Sonlight Bible plan is that it is no frills. You will not find suggestions for an object lesson or a themed bible study. Rather, Sonlight focuses on helping our children know and develop a deep love for God's Word, because it needs nothing else.
To quote one of my favorite Bible teachers, Jen Wilkin, "The heart cannot love what the mind does not know." So, appreciate the focus being only on The Word of God, and enjoy the simplicity of the Sonlight plan.

"The heart cannot love what the mind does not know."
—Jen Wilkin
This simplicity makes it easy to include the entire family in the Bible reading, regardless of age. If possible, have your family read through the passage before you come together, and then study the scripture together.
2. Use Cross References
Too often, we view the Bible as a collection of short stories and letters rather than one big, wonderful story. This is because we tend to isolate stories when we study the Bible, puling out a single passage for study. What we really need to do when we study a passage of the Bible is to consider the context—what comes before and what comes after.

Cross references are very handy for deepening understanding of your homeschool bible reading. Most Bibles have cross references listed in the margins, but I think every family would also benefit from owning a Bible cross reference index. As you read the passage suggested in your Sonlight Instructor's Guide, search out the applicable cross references. This will help you and your children see how the Bible all fits together.
Sometimes, you may scratch your head and wonder how the listed verse applies to the verse you are studying. They can be a little puzzling at times, but that's okay! Lean in to that uncertainty because it is one of the ways we draw nearer to God through His word. We depend on Him to reveal Himself to us, so it's okay to say, "I'm not sure. Let's pray about it and meditate on these passages and see what the Holy Spirit teaches us."
3. Always Look for the Son
It would be hard to read the Bible without marveling at how truly magnificent it is. To think that around 40 people, at different times and in different places, all wrote one single message is really quite remarkable. Of course, we can clearly see that the task would be impossible without the Holy Spirit enabling the work.
Ask, "Where is Jesus in this passage?"
Every time we read a passage or a story from the Old Testament, we always need to see how it reveals The Gospel. What does it say about Jesus? In my family, we like to ask, "Where is Jesus in this passage?"
This simple question is one of the easiest ways to extend homeschool Bible reading and stimulate discussion with your kids.
For example, the story of Noah could be taught at face value, but when you dive a little deeper, you will see that Noah is a shadow of Jesus Christ. He is a figure who gives us a small glimpse—albeit imperfect—of the coming Savior. When you begin to read the Bible in this way, it comes alive in a whole new way.
4. Don't Skip the Memory Work!
Oh it's so tempting to just slide right over the Bible memory work for the week. It's hard for our adult brains to do, and to be honest, it's embarrassing when our kids memorize it long before we do. Resist the urge to skip it.
Memory work is so beneficial in the childhood years.
First, they soak it up so quickly.
Second, it's building a framework for understanding everything about the Bible.
Also, it's growing their brains and teaching them to store and recall good and worthy information.
However, the most important reason why memory work should not be neglected is much more basic. There will be a rainy day when they will need to pull a verse from memory to give them hope and encouragement. Even years down the road, memorized passages can surface quickly in a time of need.
Take heart. Memory work does not have to be laborious. Games and music, like these CDs available from Sonlight, are great tools to help with memorization of scripture. My girls love to fall asleep listening to these CDs, and they oftentimes wake up singing the songs. We are also big fans of Seeds Family Worship which puts scripture to music, helping God's Word get into our hearts and minds forever.

There will be a rainy day when your children need to pull a verse from memory to give them hope and encouragement.
One of the few things that I do like to add to the Sonlight Bible Reading Plan is a catechism. The catechism is a set of memorized questions and answers that are foundational to the faith. Again, the idea here is to build a framework of understanding. I really like The Shorter Westminster Catechism for my kids. Songs for Saplings and Dana Dirksen offer an extensive collection of songs that aid in memorizing this catechism. Another great option is The New City Catechism, which is a modern catechism that includes very short questions and answers and plenty of resources to help your family memorize.
5. Use a Bible Atlas
Aside from a cross reference index, a Bible atlas can be a most helpful tool for Bible study. Seeing the place where the Israelites walked across the Red Sea and the journeys that Paul took after his conversion to spread the gospel can really open your eyes to Biblical history and make it come alive. My kids and I have always marveled at both how our world has changed since Bible days, and oddly enough, how much it has remained the same. So, as you are reading, search out your subject matter in a Bible atlas, and see the wonder and amazement in your child's eyes.
Bible study need not be complicated. You don't have to break out the felt board every day or hold a degree in Bible theology. Your kids need to see you studying and enjoying your Bible, and learning something new on a regular basis. A well-known pastor in our community passed away several months ago, but before he went, my husband had the privilege of gleaning wisdom from him. One of the wisest nuggets of truth he gave was this:

"I am in my eighties, and I have read the Bible every day for at least the past 60 years. I've learned something new every single day."

According to The Shorter Westminster Catechism, the purpose of life is to glorify God and enjoy Him forever. I can't think of a better way to do that than to enjoy learning more about His character every single day by reading the Bible.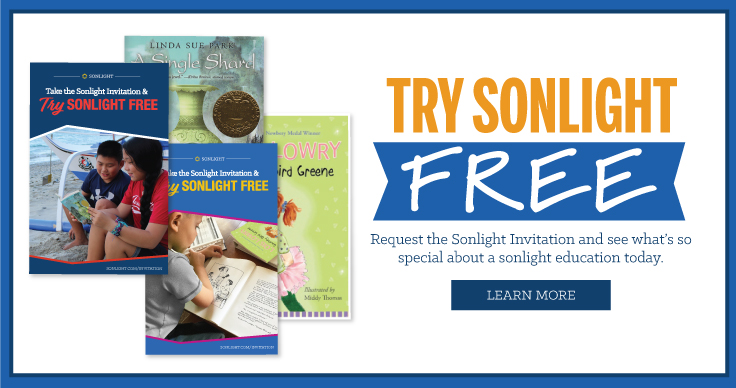 See if Sonlight—the original literature-based Christian curriculum—is right for your family.  Sign up here to get a free book and schedule to read with your children.