...::drum roll::..
The envelope, please!
And the winner of our January Blog Party is...
Sheila who blogs at The Deliberate Reader!!!
Congratulations, Sheila! I hope you enjoy the wonderful selection of encouraging books in January's prize package. And the fun is just beginning! We have another wonderful prize package lined up for February, featuring stories from around the world.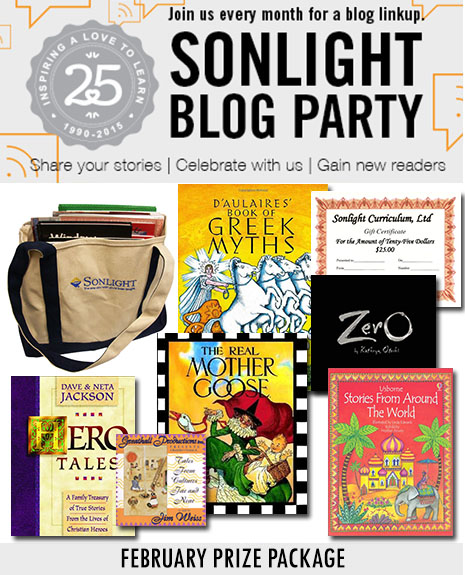 Plan to join us on February 25th for your chance to win the bundle of prizes pictured above, including:
D'Aulaires' Book of Greek Myths
Hero Tales
The Real Mother Goose
Usborne Stories from Around the World
Zero and One
Tales from Cultures Far and Near audio CD
Sonlight's heavy-duty canvas book bag
PLUS a Sonlight gift-certificate for $25!
In your blog post on February 25th share how you first decided to homeschool. How did you decide on a curriculum? (Even if you don't use Sonlight you are welcome to participate.) Once your post goes live on the 25th, come back here to the Sonlight blog and link up with us. I'm looking forward to reading each of your stories!
Enjoying the adventure,
~Karla Cook
Lifelong Learner