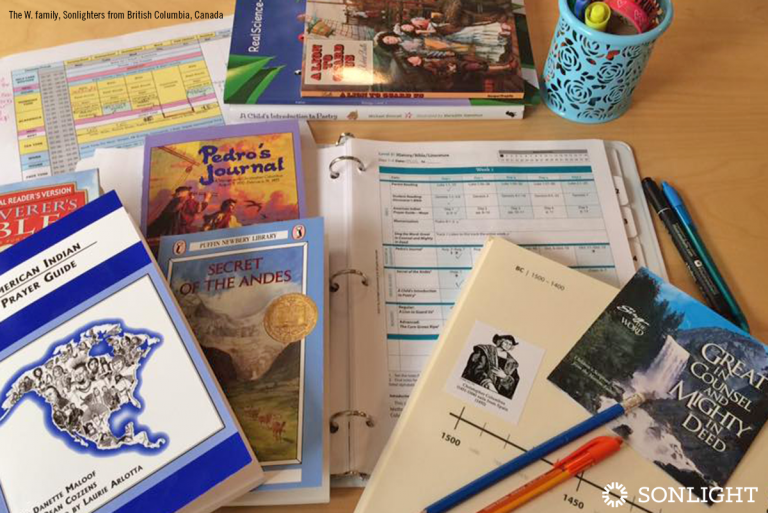 I find that homeschool routines come more naturally and are easier to follow than homeschool schedules. A good homeschool routine follows your family's natural rhythm, gently weaving learning time into your daily life.
For example, I am not an early bird, and neither are my kids. Thus a homeschool schedule starting at 8 a.m. would be unrealistic for us. We begin our day much later than many families—even on the momentous first day back to school!
This year, I had prepared a huge kick off for our first day of the new homeschool year, but I woke up at 9:45 a.m.! Can you believe that? It's true! I overslept on the first day back to school!
But it didn't matter. Even though we started late, we had a wonderful day because I was completely rested. Instead of fighting my natural rhythms and need for sleep, I relaxed into them and shifted the entire day back a few hours. It was just fine!
No, we didn't do everything I had ambitiously planned, but we did plenty.
That's the beauty of following a flexible homeschool routine instead of a schedule. If I were operating by a fixed schedule, I might have felt miserable for failing on the very first day. Instead, we followed our own natural family routine, and it did not matter what time we started.
Here is a glimpse of our normal homeschool routine, divided into three parts: Morning Time, Table Time, and Tea Time.
1. Morning Time
Bible
Character/Habit Training
Our homeschool morning routine begins with B&B: Bible and breakfast. This is the best way to start our day as a family—putting God first. Starting our days with Bible and prayers helps my children develop a habit of daily morning devotionals.
We focus on teaching our kids one character trait or habit every 6-8 weeks. Teaching our children the habits of attention and obedience, for example, has helped our homeschool run much more smoothly.
2. Table Time
Our Table Time begins with Math because this is the time of day when my kids are fully awake and their minds are fresh. Language Arts takes the longest portion of our table time and includes these daily topics: reading, dictation, spelling, handwriting, vocabulary, and grammar. During Table Time, we alternate between History/Geography and Science, covering each subject twice a week.
Read-Alouds are a big part of our daily homeschool routine. We leave our reading for last as a transition from Math or Science into lunch and afternoon quiet time.
3. Tea Time
Poetry
Piano
Music Appreciation
Art Appreciation
Nature Studies
Tea Time in the afternoon is my kids' favorite time of the day. During Tea Time we regroup in the living room or dining room for snacks, tea, or hot cocoa. We have fun listening to poetry every day. In addition, we loop through the other topics, namely the fine arts and nature. Sometimes we even study Hebrew during Tea Time.
Once a week we go for a nature walk and have tea and cookies on our way back. If we need to, we sometimes use Tea Time to catch up on a Read-Aloud.
Finding Your Homeschool Rhythm
Each homeschool year—even each season—may look very different for you. So remember as your family changes, your routines may need to change as well. Don't be afraid to adjust your routine.
How is your homeschool routine working for you now? Do you need to tweak it to fit your family better and flow along with (and not against) your natural rhythms?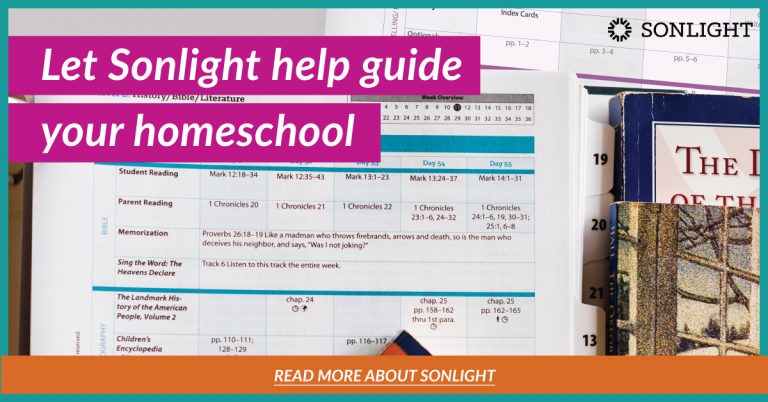 Find a rhythm for your days with Sonlight. Try three weeks of any Sonlight Instructor's Guide for free. Click here to get one for any level, preschool through twelfth grade.