It all began with Wayne. He took a long, hard look at Sonlight's Instructor's Guides and wondered if they had become a bit complex over the years. Were they truly the straightforward, easy-to-use homeschool guides we intended them to be?
That led to many discussions between Wayne, me, the Sonlight team and current homeschool moms. We ultimately decided to spend 2011 revising the IGs. We took what made the IGs great and reformatted the Core A-G IGs to make them (we hope!) much easier to use.
With these updated guides on the website now, I'd love to share the rest of the "behind-the-scenes" story with you in this video (if you haven't already seen it). You'll see me share with the Sonlight team last month. To skip the introductory remarks and get right into it, start at 1:26 in the video: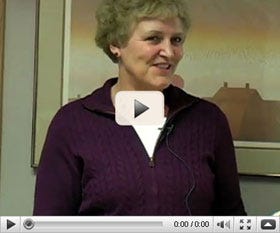 May God bless your faithfulness as you continue to teach your precious children! And may the coming year be your best one yet.
Sincerely,
Sarita Holzmann
---
Want more encouragement?
Sign up for Sonlight's bi-weekly e-newsletter
You'll be encouraged by the words of founder Sarita Holzmann, inspired by real-life stories from other homeschoolers, pick up practical tips for the journey and more.
---