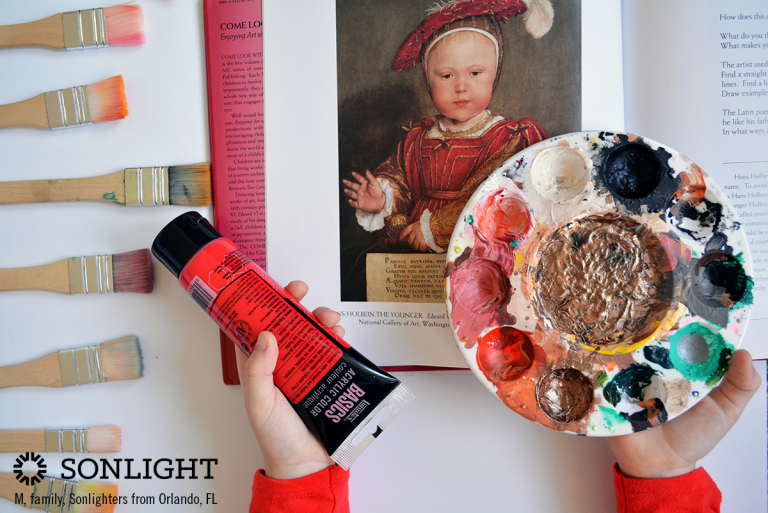 Art, it seems, is one of the more misunderstood subjects. In my conversations with homeschool parents, I've encountered over and over the idea that only artistically-minded families can adequately teach homeschool art history, or that art is somehow more difficult to teach than other subjects. This simply is not true!
You absolutely can incorporate art history into your weekly routine with confidence (and Sonlight makes it easy with these homeschool art electives, too!) Here are seven reasons why you shouldn't feel intimidated by the idea of teaching art history.
1. Art History is for Math- and Science-Minded Families, Too
Our personal homeschool is heavily weighted towards the science and math ends of the spectrum, and yet we love our weekly exploration of art history. Though my math-minded daughter shows little interest in honing her skills beyond stick figures, she adores art with geometric components, like Vermeer's 1658 painting The Little Street, or Mondrian's primary color compositions from the 1920s and 1930s.
2. You Don't Have to Know How to Draw to Teach Art History
Art history is about learning to recognize and appreciate the great masters, not learning to draw. As a homeschool mom, you can confidently and adequately teach art without drawing, painting or sketching.
In fact, the terrific Come Look With Me art appreciation books don't even incorporate hands-on projects. I love the author's thoughtful and narrative approach to art. For each lesson, you and your child will
look at a richly detailed, colorful work of art,
read about the artist's life, and
ask curiosity-provoking questions which encourage close observation.
In just minutes each week, you can add a whole range to your cultural knowledge.
3. Art History is Not the Same as Arts and Crafts
I'll tell you a secret. I don't like crafts. If you're avoiding the study of art because you're just not a hands-on mom, that's okay! You don't need to love popsicles sticks, paper plates, and pom-poms in order to dive into the diverse beauty of art through the ages.
4. Studying Art History Just Means...Studying Art
The term art history can sound intimidating, can't it? But it really just means studying art. In the loosest definition, if the art existed sometime before today—great! You're studying art history. There's a progression of eras of course—the Classical Greek period is distinct from the Renaissance—but you do not need to master the entire art history timeline in order to cultivate a deep love and appreciation for art and beauty.
5. You Don't Have to be an Art Major to Teach Art History
I teach art history at our local homeschool co-op, and every few weeks, someone asks me, "Is your background in art?" My background, in fact, is in everything but art—I've worked in a sheet metal factory, a juvenile detention center, and a mortgage company. But art isn't esoteric, available to only a select few. In this modern, interconnected age, the art of the masters is more accessible than ever.
You don't have to be an art major to browse the art history section of the library, click through the galleries of any number of art museum websites, or peruse an art history timeline. In fact, you don't even have to do any of that—you can just pick up a homeschool art curriculum like Artistic Pursuits, open it up, and go.
Why do I love Artistic Pursuits? In K-3 Book 2, for example, you'll
see a full-color reproduction of a famous art piece,
read an overview of the artist/genre in historical context, and
do a hands-on project emphasizing some aspect of what you learned.
6. Art is for Everyone, Not Just for the Select Elite
There's a common misconception of art not being accessible to all, but only to a few who are sophisticated enough to understand it. But we do not live in the Dark Ages. Today, anyone with an internet connection or a library card now has access to the famous works. There's no velvet rope around art!
7. You Don't Have to Know the History of Art to Teach Art History
It's true! Remember, your goal in teaching art history is
to glorify God,
to cultivate curiosity,
to foster a love for beauty,
to promote critical thinking,
to encourage quiet contemplation,
to recognize famous and culturally-significant pieces,
to respect that each person's individual styles and tastes in art differ,
to acknowledge the widely diverse range of gifts God has given each of us.
You don't need to know all the historical facts surrounding a painting to accomplish those worthwhile goals.
Be free from your fear of homeschool art history. Art appreciation has little to do with one's own artistic talent—or lack thereof. Own your God-given love for beauty. As the created, designed by the master Creator, "We do not want merely to see beauty... we want something else which can hardly be put into words—to be united with the beauty we see, to pass into it, to receive it into ourselves, to bathe in it, to become part of it." -C.S. Lewis
Celebrate beauty, to the glory of God!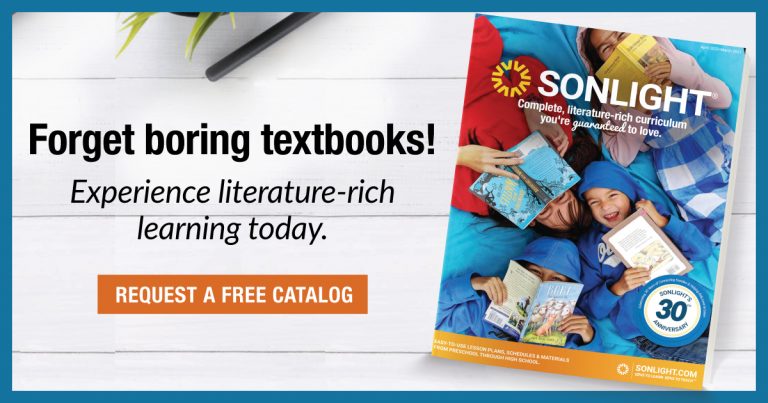 To see the full scope of Sonlight curriculum options, including Art, request a complimentary copy of your catalog today.