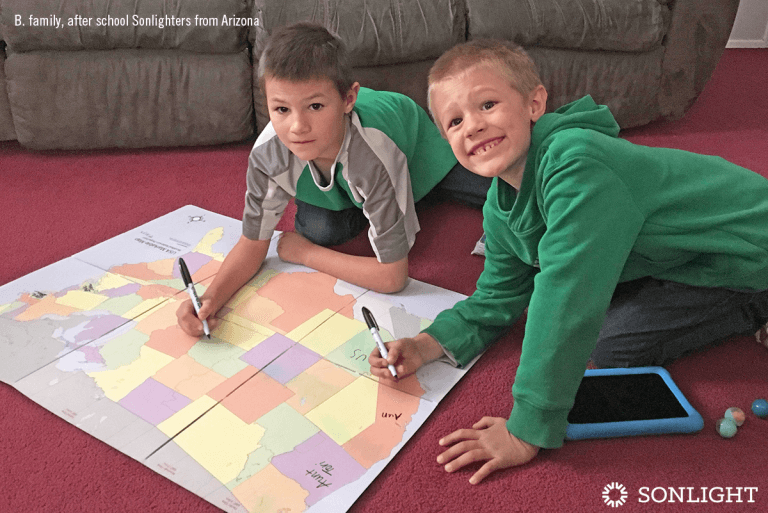 Special Introduction to This Post
This article is the first by a new contributor Jen Brimhall. She brings a unique slant to the Sonlight blog because she and her children have used all kinds of educational options: public school, private school, homeschooling, and every combination of those. Currently her kids are attending school, and she is afterschooling them for enrichment. At Sonlight, we cherish school choice, and we know that every family, every child, sometimes every year is different. Parents make the best choices for their families, and sometimes that means using a school. But like Jen, once you homeschool, that bug is probably forever in your blood, and you will see education differently than before! Jen remains an active participant in her children's education, supplementing their work at school with extra activities at home. You will be seeing her contributions on the topic of afterschooling here on the Sonlight blog for the coming year.
---
I don't know about you, but when my kids come home from their day at public school, the last thing they want to do is more learning. They need a break! And I get it; I really do.
But sometimes, subjects that are important to me aren't taught very much or at all in our local school. No one person or institution can be all things to all people, offer every subject under the sun, or teach in a way that resonates with everyone. Plus, some kids simply need a little reinforcement on certain subjects. And that's ok. A parent is a child's first teacher after all, and these opportunities can be wonderful times of connection.
But oh my, the after school battles—even for assigned homework! They aren't for the faint of heart.
But have hope. There are wonderful ways to supplement an education at home after school, that won't be tear or tantrum inducing. This afterschooling, as we call it, might even be—dare I say it?—fun! The key is to make learning a part of everyday life.
1. Play Games and Puzzles After School
I have a child who will do anything if someone will play a game with him. And lucky for us, there are some pretty awesome educational games out there.
Snapshots Across America helps kids learn U.S. geography. It also spotlights a special tourist site for each state, so it might even help you plan your next family vacation. Not quite sure where Nebraska is? You'll know soon!
Knock out and Muggins are clever elementary math games that help kids practice their addition, subtraction, multiplication and division.
Bananagrams or Scrabble are versatile! Have races to see who can find tiles to make spelling words the fastest. See who can come up with the best vocabulary words, synonyms, antonyms, etc.
Detailed puzzles like these of the solar system, the United States or the world, can be great for opening up discussions and helping the whole family get in on the learning.
Almost anything can be turned into a game if you have the right attitude and want to have fun: spelling, math, languages. . . the options are endless!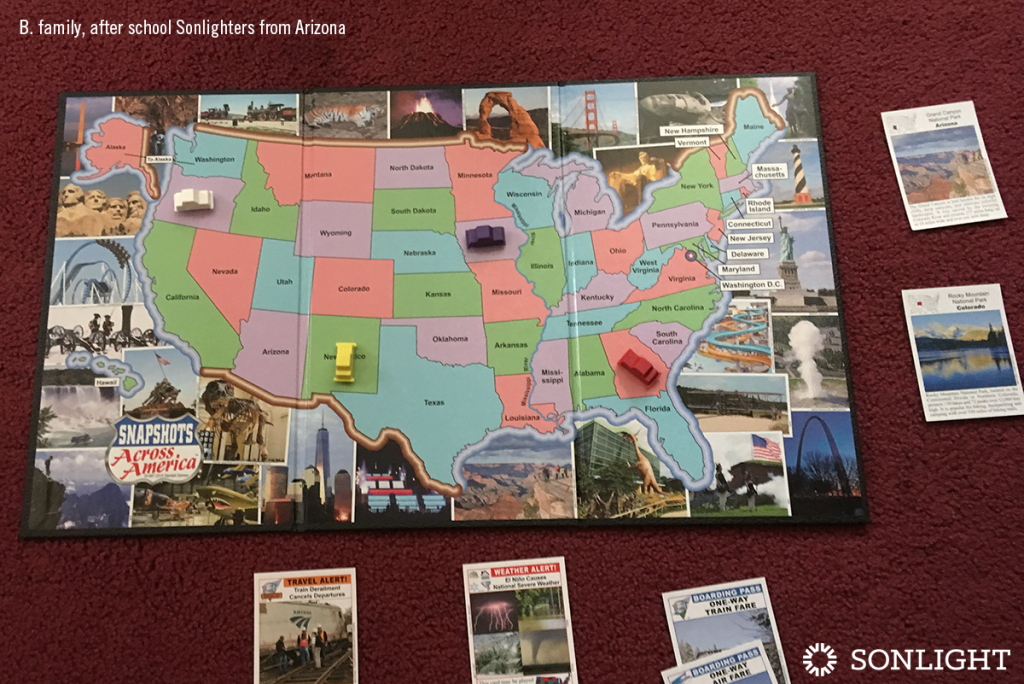 2. Capitalize on Current Events
Look no further than the local news for afterschooling fodder!
Is there a rally somewhere? Find it on a map! What are people protesting? Why? What would the consequences be if their talking points were accepted or denied? (You're covering social studies, geography, logic, and government.)
Are the Olympics or other multinational sporting events taking place? Find each nation on a map as the athletes compete. Learn one new thing about each country. You could delve into math using time, body angles for diving, gymnastics, ice skating, etc. Don't forget about anatomy and nutrition! Try a new recipe from a country you are interested in. Double it to work on fractions! (You're covering geography, multicultural appreciation, math, science, and life skills.)
Are natural disasters happening? Where are they? Why did they happen? (You're covering geography and weather.)
Watch political speeches together. Candidate debates, presidential speeches, and local events are all excellent ways to talk about deeper things. Do some fact checking. Are these politicians telling the truth, the whole truth and nothing but the truth? (You're covering government, speech and debate, research skills, and critical thinking.)
3. Talk About Family and Friends for Afterschooling
We live in a time when people are much more open to pick up stakes and move than they used to be. Use what can sometimes be teary moves or fun trips as exciting ways to learn more. Get a washable map (this double sided one is my favorite) and write the names of loved ones who have either lived or visited a certain area. See how many names and places you can label on the map! (You're covering geography.)
Ask out-of-town family/friends what they like about their area, and what is common to it. What is that area known for? Agriculture? Industry? Banking? National parks? Who first lived in this area and who immigrated to it? (You're covering geography, career exploration, appreciation, history.)
Pick a new town or city you are interested in and calculate the cost of living compared to where you currently live. What is the average income? How much is housing? Food? Travel? (You're covering math, life skills.)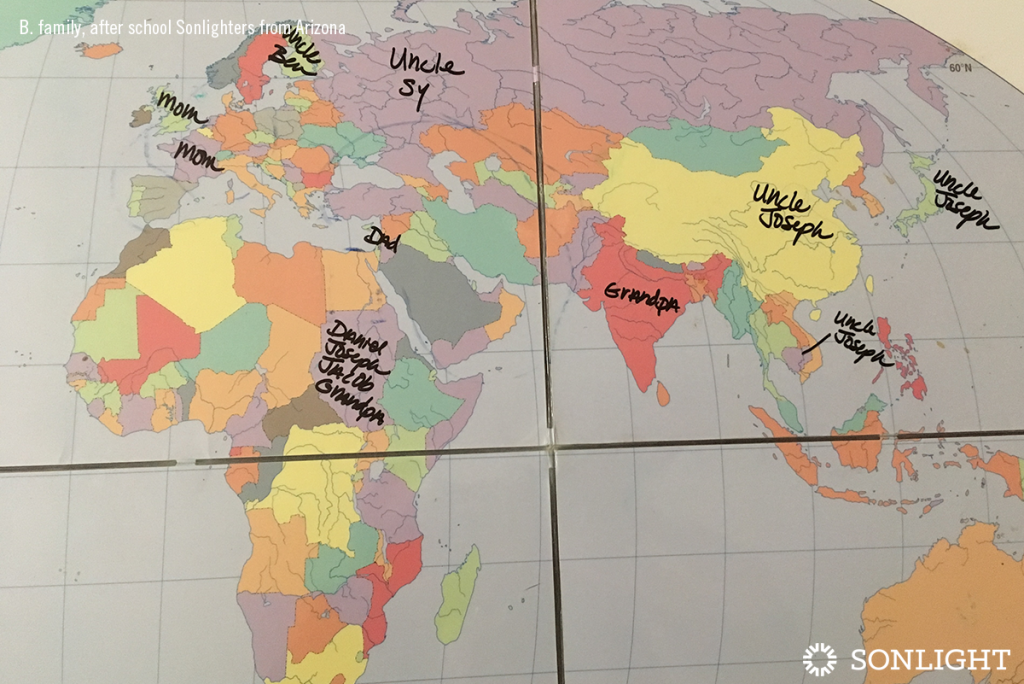 4. Read Books Together After School
This is possibly one of the most valuable things you can do with your family, period. The benefits are endless! You can find amazing books here.
Vocabulary: explain new words
Grammar: the more children read, the more they will naturally pick up on proper grammar.
Emotional intelligence: children learn about feelings, empathy and how to handle difficult situations when they listen to excellent books.
Character building: when parents choose books wisely and select stories of real life heros or fictional characters who make good choices, we reinforce what we want our children to learn. WE aren't telling them how to be good (that would be a lecture they might not want to listen to), but the characters in the book are living it, instead. That is priceless.
History: Read The Yanks are Coming to learn about WWI. Read The Hiding Place and learn about WW2. Little House on the Prairie is a favorite of young listeners, and biographies written for children are favorites at my house.
Bonus tip: Audiobooks are great for bedtime and car trips!
5. Teach Kids About Your Professions
Something as ordinary as your own profession is food for afterschooling. Discuss these things with your children:
What made you choose your profession?
What subjects did you need to master in order to be qualified?
Explain how your profession helps society.
Confide in your children about problems you face in your work and how you overcome them through research, mathematics, social skills, etc.
6. Watch Movies Together
Yes, you read that right! Our family has benefited from watching historical movies like Gettysburg, Gandhi, Cromwell, A Man for All Seasons, Johnny Tremain, Liberty Kids and more. Pop some popcorn, watch the movie and then fact check it later.
Was the movie accurate?
What was creative license?
Did you agree or disagree with the decisions the main characters made?
What were the consequences?
(You're covering history, emotional intelligence, logic, cause and effect, government, leadership, etc.)
You can start afterschooling right now, with virtually no preparation. Really, anything can be educational when you are intentional and education becomes a lifestyle for your family, instead of an activity that only happens at school. Parents are in an ideal place to teach their children with love and to make education come alive. You can teach your children, even very casually, and do it well.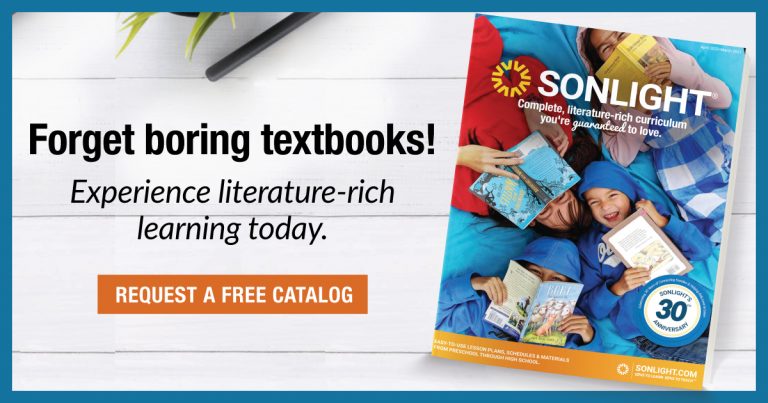 If you are looking for afterschooling resources, you can trust the carefully vetted books, games, and curriculum in the Sonlight catalog. Order a complimentary copy for yourself today