I read a stunning article last month. It begins:
"Melinda started 2nd grade with everything against her. She lives in poverty, her mom is not literate in English or Spanish, and she was severely abused at the age of 6. At the beginning of the year, she owned only one book."
How could Melinda's teacher best help her? He chose to focus on one thing he could change in her life. Considered the simple fact that most impoverished children own few (if any) books:
"A 2001 study… found that the ratio of books to children in middle-income neighborhoods is 13 books to one child, while in low-income neighborhoods the ratio is one book to 300 children."
How can kids treasure books when their culture at home doesn't? So Melinda's teacher, Justin Minkel helped change that culture.
He helped each of the 25 children in his class build a modest home library. Each child created a special space at home for books. Then over the course of two years, Minkel gave each of the 25 children in his class 40 books of their own.
The project worked. Melinda, for example, moved from a kindergarten reading level to a fourth-grade reading level … and realized that she could learn. As Minkel reports, "The total cost for each student's home library was less than $50 each year, a small investment to move a struggling reader from frustration to confidence."
I highly recommend you read the entire brief article, The Home Library Effect: Transforming At-Risk Readers.
How to motivate reading
I love Minkel's approach here. I too believe that reading intervention is less about fancy methods and expensive programs than it is simply fostering an intrinsic motivation to read.* In Minkel's words, "To help kids develop a love of reading, put great books in their hands. Then watch in amazement as their worlds change." That's the main "secret" to Sonlight's wildly successful approach to reading!
So let's chalk up another win to home libraries. Whether you live in a remote village overseas, a nice suburban neighborhood with high-ranked schools, a low-income area with poor schools and no books … you're doing your children a great service when you build a treasure of books at home.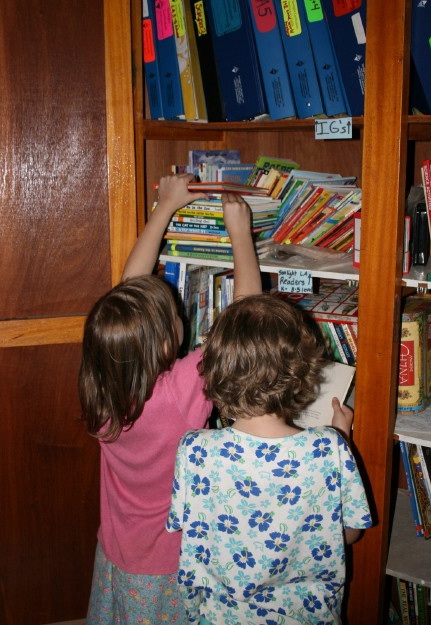 Sonlight students Ruth and Rebekah H
of France enjoy their own home library.
As a special challenge today, I'm going to consider how I might help other impoverished children build a small treasure of books to call their own. Does that call grab your heart, too? What ideas, big or small, do you have for what you could do?
Blessings,
Sarita
*Of course, when specific learning challenges such as dyslexia are involved, a certain amount of skilled intervention can be quite helpful.
---
Want more encouragement?
Sign up for Sonlight's bi-weekly e-newsletter
You'll be encouraged by the words of founder Sarita Holzmann, inspired by real-life stories from other homeschoolers, pick up practical tips for the journey and more.
---