We only have a limited time here on earth. A very limited time with our kids at home. What will we do with that time?
Although the Lord gently pushed me into homeschooling, I have no regrets in having invested so much of my time in my children. I could not have chosen another season of my life to focus on them in the same way. The Lord granted me the opportunity, and I am so grateful I took it.
We got to share each morning together learning and reading together on the couch – precious memories indeed. We built up so much quantity time together as we learned together, that our quality time naturally arose out of that.
I believe my time at home with them forged deep bonds between me and each of my children, and between the children themselves. It's no surprise that I love my children. But I am so grateful that I also really like my children. I love that they can talk to me, John, and each other about heart issues – and they know we'll listen.
You are in a unique position to truly know your children. You can learn their personalities, their learning styles, their quirks, their joys. What a privilege to help educate them in the context of that close relationship.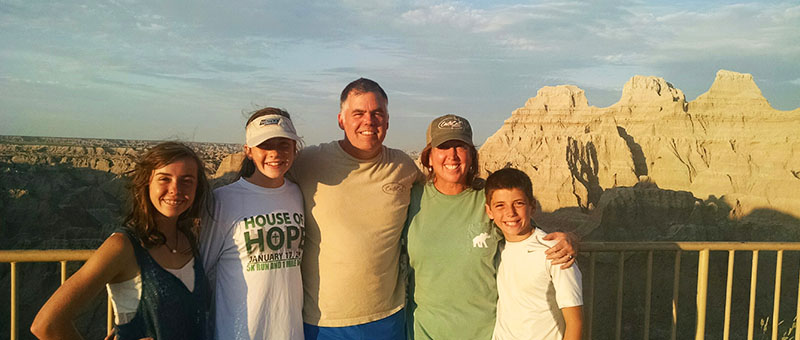 "I love that Sonlight focuses on God, Christian morals and history, and has a challenging curriculum. I was a middle school history teacher at a charter school and became frustrated with the way public education is going. I prayed and felt tremendous clarity that as a parent, the greatest responsibility I have is to teach our children the love of God. How could I do that if I only spent a few hours with them in the evenings while focused on cooking dinner or winding down from work?" – Wendy W, Panama City, FL

Here, Whitney (14, Sonlight 200), Ashley (12, Sonlight W) and Mason (10, Sonlight F) pose with Mom and Dad in the South Dakota Badlands during their epic homeschool kickoff trip.
I love that when my kids struggled in learning, I knew them well enough to know how to help them. And even if I didn't know the answer right away, I knew I had time to stick with it and figure it out. I knew that Justin was extremely distractible and needed a LOT of help moving from one math problem to the next. I knew that Luke had to work very hard at the mechanics of reading, but that his comprehension was through the roof. I knew that Amy loved to check things off lists and feel a sense of accomplishment in her day. And so John and I could tailor their education to them.
As the kids got older, our deep investment in them helped them find their paths in life. You can read about how my homeschooled children found their careers – it wasn't a straightforward path for any of them. But we got to be a true support to them as they spread their wings. What a blessing!
You may not be able to or even want to give your children all the latest gadgets and everything they say they want. But I do believe you can give your kids what they really want. And I believe homeschooling is a great way to give yourself the space and freedom to truly invest in your kids.
After all, the gift of your presence is what they'll remember about their childhood anyway. So blessings to you as you do the hard yet beautiful work of investing in your children. Never doubt that your work is meaningful. Enjoy the journey!
Blessings to you and yours,
Sarita
---
Want more encouragement?
Sign up for Sonlight's bi-weekly e-newsletter
You'll be encouraged by the words of founder Sarita Holzmann, inspired by real-life stories from other homeschoolers, pick up practical tips for the journey and more.
---