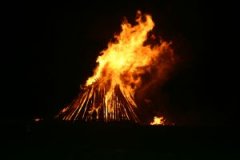 My thoughts today will be brief ... because we're on summer break around here! Summer means a lot of different things for our family ... picnics, long walks on the park trails, kayaking in the lake, late night bonfires, and so on. But one thing summer has never meant is a break from reading!
Summer is a great time for reading some of those "Just Great Books" in Sonlight's catalog. One of our favorites was the Ralph Moody series. They are perfect for reading around a bonfire or curled up on the couch on a rainy afternoon. We also looked back through whatever Core program we had just finished and chose to re-read favorites, or catch up on some titles we may have skipped.
This summer "break" I'm working on that stack of books I mentioned in an earlier post. What are *you* reading this summer?
Still on the journey . . .
~Judy Wnuk
Sonlight Customer Champion