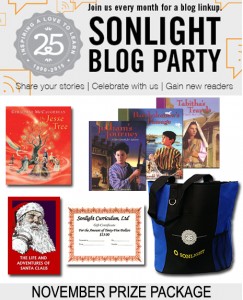 Our year-long 25th anniversary blog party continues today, and I can't wait to read your stories! In your blog post today, share your best  homeschool organization tips.
This month's Advent-themed prize package includes:
The Jesse Tree
Jotham's Journey
Bartholomew's Passage
Tabitha's Travels
The Life and Adventures of Santa Claus
Sonlight's limited edition 25th Anniversary tote bag
PLUS a Sonlight gift certificate for $25!
Everyone who participates will be entered in a drawing for this fabulous prize package! The winner will be announced on December 14, 2015.