The winner of the prize drawing for May's blog party is...
Rebecca who blogs at The Moehrings!!!
Congratulations, Rebecca! I hope you and your family enjoy your prize package.
The next installment of our year-long Blog Party will be on June 25, with another fantastic prize package... featuring books about the American Revolution.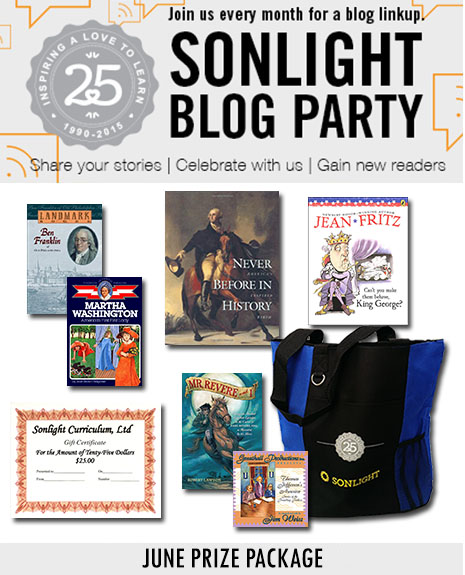 Plan to join us later this month for your chance to win the bundle of prizes pictured above, including:
Ben Franklin of Old Philadelphia
Martha Washington: America's First First Lady
Never Before in History
Mr. Revere and I
Thomas Jefferson's America: Stories of the Founding Fathers audio CD
Can't You Make Them Behave, King George?
Sonlight's limited edition 25th Anniversary tote bag
PLUS a Sonlight gift certificate for $25!
In your blog post on June 25th share your favorite summer reading and learning activities. Even if you don't use Sonlight, or even if you don't homeschool, you are welcome to participate. Once your post goes live on the 25th, come back here to the Sonlight blog and link up with us. I'm looking forward to reading each of your stories!
Enjoying the adventure,
~Karla Cook
Lifelong Learner