My name is Shauna G. I am a second year home school mom. This experience has been at times trying, but for the most part a blessing.
I own and run a busy dog grooming shop. I spent so much time building my business I was not around as much as I should have been when my children were babies. We did private school and public school but one day it hit me: No one would ever care about my children's futures the way I do. And as Holy Spirit trains and teaches me because He loves me, this is what I should be doing for my children.
The more I researched homeschooling, the more the terror set in. ...Until I found Sonlight. The curriculum was well-rounded, exactly what I was looking for. Better yet, the curriculum was all planned out for me! Perfect! My children loved the books but, more than that, the time I was able to spend with them was so valuable. We spent the year learning and getting to know one another better.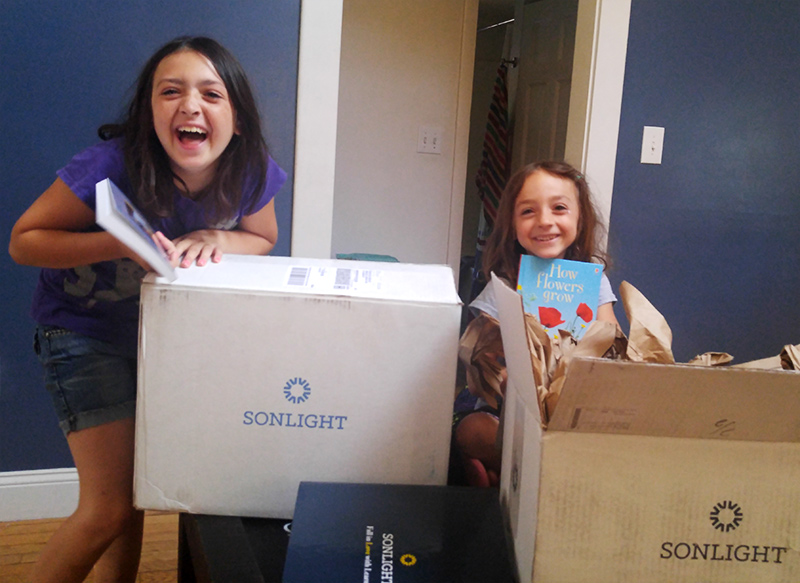 So excited for another year with Sonlight!
I'm not saying my schedule wasn't hectic. I'm not saying I wasn't exhausted. I'm not saying it wasn't a huge lifestyle change. What I am saying is Sonlight made it easier and more approachable. The stories, as opposed to textbooks, made it more intimate and special. The diversity in books caused great discussions in the car and at the table. Because I work, I had to make my home a constant environment for learning.
Thank you Sonlight for helping a simple working mother of two be better equipped for training up my children in which they should go.
-Shauna G.
Cape Cod, MA