On some level, the Sonlight Instructor's Guides (IGs) are not dramatically different from previous years. The schedule grid, as always, sums up a lot of information in an easy-to-use format. And the notes, as always, expand on the books you read. (Curious about what our notes include? See pages 14-17 in this year's catalog for a full description.)
But current Sonlight users will see a number of changes to the IGs when the 2016 version goes on sale. Most important: grab-and-go notes for both Readers and Read-Alouds, and a redesign that shortened the IGs by about fifty pages.
We moved the notes for the Read-Aloud and Readers to their own section of the IG, and organized them by title.
Why?
Sonlight Read-Alouds are so good, many children beg their parents to keep reading. If you grab a book and its notes all together (rather than presented in dribs and drabs over multiple pages – interspersed among other pages in the IG!) you're ready to go . . . to the couch, to an appointment, to the park.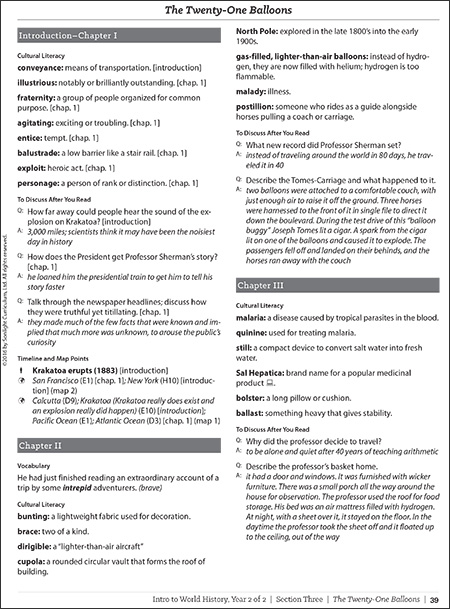 Similarly with the Readers. Sonlight parents often find that their children have read ahead in their Readers. With all the notes for a single book in one spot, you can more easily use the notes at each child's pace.
And if you want to add some sequels to your reading because you got ahead, or if you need to put off a Read-Aloud until the summer, the notes more readily allow this flexibility.
The Readers schedule can be found in both the History / Bible / Lit IGs (K-4 Readers and levels D-W) and the now separate Language Arts guides.
The Bible and History notes remain immediately following the schedule page. These notes have fewer subheads than in previous years, which contributes to the overall page reduction. (Fewer trees felled to make your IG!) You can see how the notes look at the bottom of this schedule page.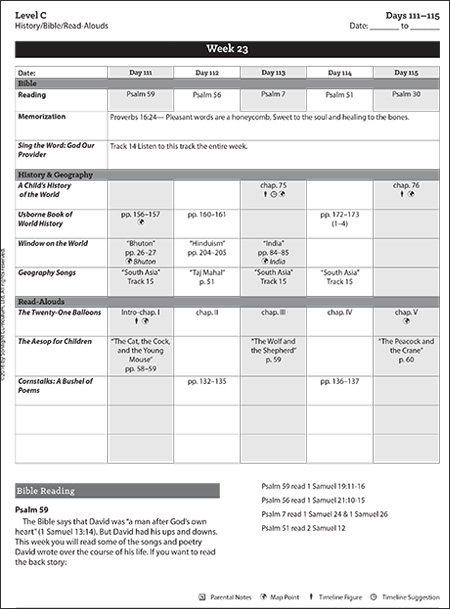 And did you notice how nice the new schedule page looks? It's clean and aesthetically pleasing. It's still a grid, but it's a nicer-looking grid.
And this next change is subtle, but did you notice the numbering at the top of the schedule? Rather than emphasizing Day 1, Day 2, Day 3, Day 4, Day 5 – a 5-Day week – thirty-six times over, the days are now numbered consecutively. So in Week 2, the schedule has Days 6 to 10. In Week 7, Days 31 to 35.
We aim to release you from thinking of your days as a calendar week. If you choose to start your school year on a Wednesday, you'll probably do three days' worth of work. The following Monday you would start with Day 4. No matter what the calendar day is, when you open the Sonlight IG, you'll be ready to do the next of the 180 Days.
Grab-and-go notes. Fifty fewer pages. Aesthetically more pleasing. New numbering. Same great content. Even more flexible.
We are thrilled to present the 2016 IGs.
Until next time,
Amy Lykosh
John and Sarita's oldest daughter
Second Generation Sonlighter
Homeschooling Mom to Five
P.S. You may have heard that Sonlight is no longer selling a 4-Day and a 5-Day program, but only a 5-Day. In my next post, I'll talk about why we eliminated the 4-Day program, and why it's very a good thing.
And in my post following that, I'll talk about the changes to Sonlight F.