I am one of those moms who never thought I would homeschool. I didn't have anything against homeschooling, I was just certain it wasn't for me.
But then we started looking into Kindergarten options for our daughter, and I wasn't very happy with what we found. So I emailed a few homeschooling moms that I knew and asked them a bunch of questions. Their answers were so enthusiastic I knew I needed to look at this option more closely.
I sat down with a mom who has six kids and has used Sonlight with the two oldest that she homeschools. After looking at all the great materials she uses, I left saying, "Maybe I could actually do this!"
After a few weeks of researching various curriculum, we decided to use Sonlight's Newcomer Kindergarten Package. We placed our order and the wait began!
I knew our "Box Day" would be exciting, but I had no idea just HOW exciting it would be!
The delivery man rang the doorbell and there on our doorstep was a huge box with the Sonlight logo on it. "Thank you!" I called out after him. "That's not all!" he laughed, and carried another huge box to our door.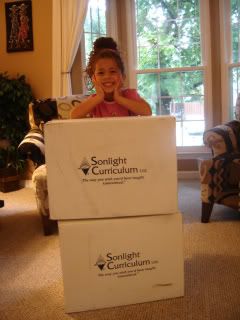 Sonlight Newcomer Package Boxes
As my daughter and I pulled books and materials out of the boxes, she kept saying, "Mom! Look at this!" over and over. At one point, I was fighting back tears as I thought about what a great year we have ahead of us using these fabulous materials. I never dreamed that I could be this excited about homeschooling!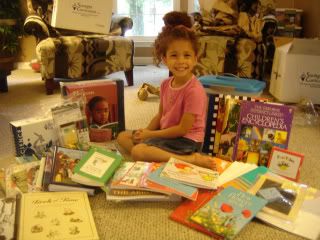 Sonlight Box Day: Better Than Christmas
Thanks to Sonlight for making Box Day far better than Christmas morning!
Kristen S.