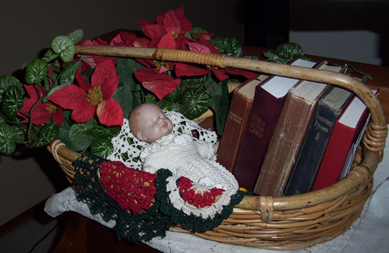 Christmas is a wonderful time for stories. I'm sure we all have our favorite classics. Dickens' A Christmas Carol, Jimmy Stewart in It's a Wonderful Life, and A Visit from St. Nicholas are all perennial favorites at my house. I love to read many other heart-warming stories of the season as well. In spite of the evil in the world, or stress in our lives, I have found it to be a good way to remind myself:
"God is not dead, nor doth He sleep;
The Wrong shall fail,
The Right prevail,
With peace on earth, good-will to men."
Of course, the only Story that really matters... the true heart of every other Christmas story... is the timeless Story of God's unfathomable love for each one of us. This morning as my family reads the account of Jesus' birth from Luke 2, before we open our gifts, I am overwhelmed once again trying to understand why the Creator of the universe would humble himself to be born as a helpless infant in such lowly circumstances.
And all they that heard it wondered at those things which were told them by the shepherds. --Luke 2:18
Wishing you a wonderful day as you celebrate His coming!
Enjoying the adventure,
~Karla Cook
Lifelong Learner