My daughter and I were eagerly awaiting our first box day. We're starting our first year of homeschool soon and we compulsively checked the Fedex tracking at least four times a day. Finally, the day came and Deanna (7) helped toss the paper out of the box - until she saw a book that interested her. She grabbed "Archaeologists Dig For Clues", sat on the couch and only moved to get more books. She read all of "Archaeologists," all of "Why Do People Eat?", all of "What Makes You Ill?" and most of her readers before we distracted her with dinner. She refused to take any of the pictures I'd planned ("Mom! I'm reading!") or make the castle ("Not now, Daddy. I'm reading!"). All she wanted to do was read, read, read!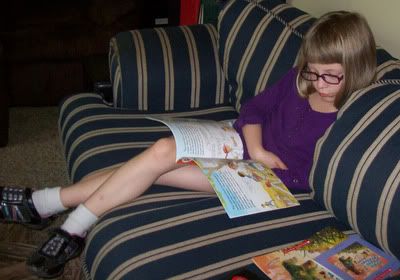 Deanna reading on the couch.
So instead of a picture of Deanna surronded by books on the floor, we took one of me.
I'm so thankful for Sonlight and all of the amazing books. We can't wait to start reading them (again, in Deanna's case!)
-Kristee P.
PS. She did get excited about building the castle two days later - after I'd put all the books away!