We start school as soon as our summer vacations are over. I told the kids we could wait until August to officially start school, but once the box arrived, anticipation was high.
We had to run errands first, clean the house, put laundry away, eat lunch, and FINALLY it was time to open the box. Warren, the oldest, had to be in charge of course. They spent thirty minutes looking through all of their books and supplies.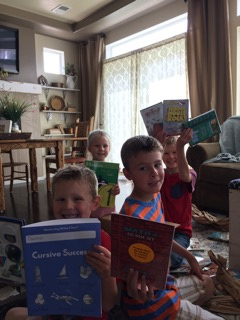 Exciting new homeschool books and supplies
They separated them in categories on the dining room table and then we spent the afternoon cleaning and organizing their homeschool cabinet for the new year.
They've decided they can't wait any longer, so we are starting homeschool as soon as the baseball season ends on August 1st! There's nothing quite like the thrill of crisp new books full of knowledge, boxes of science tools and looking forward to cool fall mornings sipping tea by the fireplace while we read aloud. Life doesn't get much better than that!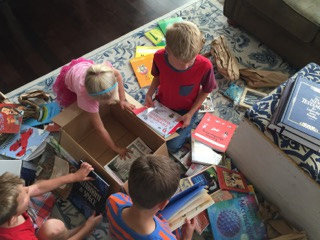 ~Laura N.