When we began praying over the decision to homeschool our youngest son (11) in November 2011, I was very unsure how to find curriculum. A few nights later, our local news aired a segment about a homeschool family in our home city (5 children – the 2 in college scored 34 on their ACT). The next morning, I called the mother. She immediately began talking to me about homeschooling and how rewarding it is.
When I asked her about curriculum, she invited me over to her house to look at her books and resources. She then began to tell me about Sonlight and how it has been one of the best complete curriculum packages they have ever used.
Sonlight has everything we were looking for. When our boxes arrived, my son and I were at a rehearsal (we love musical theatre). My husband sent us a text saying, "Aaron's books are here!" I immediately replied, "DON'T OPEN THE BOXES!"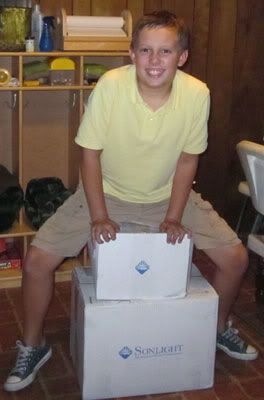 Unopened Boxes
That was one of the most exciting evenings at our home when we returned from rehearsal. Aaron is so excited about all of the readers, science books, Bible readings, history titles, poetry, etc. I told him that he better watch out because I'm going to be smarter than a 6th grader very soon!!

So excited about all the materials
We cannot wait to get our school-year started and are very blessed to have such a wonderful resource with Sonlight. Thank you so much!
Amy R.