Before my first baby (of ten) was born, I asked my seasoned midwife how to reach one of my birthing goals, "What is the greatest factor in getting through childbirth without medication?" Her wise response applies to so many aspects of life: "You have to want to."
Fast forward to today. My three oldest children are headed to college in the fall. Wrapping up our last year with them has given me the chance to deeply reflect on our efforts. If you're coming to the end of the middle school years and are anticipating high school, let me encourage you.
Yes, you can homeschool all the way through high school if you truly desire to.
You have to set your mind on the goal and not be wishy-washy about it, though. Settle on a place of total mental clarity. If you want to homeschool through high school, determine you will, and then do everything in your power to to obtain that goal.
Does Your Own Education Hold You Back from Homeschooling Through High School?
I have talked to parents who think being weak in a particular subject area disqualifies them from homeschooling. Whether it's science, math, or writing, your own academic deficiencies shouldn't keep you from homeschooling if you want to.
Let my story encourage you.
One reason I am a homeschool advocate is because I was a dismal failure in the public schooling system as a student. There is not a better example of how you can overcome your educational deficits than me, a high school dropout. If I can get three kids graduated (and into college) in one year with seven little ones running around, I guarantee you've got this!
I was not the best or most cooperative student. Involuntarily homeschooled at fifteen, I quickly transferred to college classes. I eventually earned my degree in graphic design, but I was not a good fit for the public school system. My past as a poor student has never hindered my success as a homeschool mom. Instead, I have homeschooled like I wish I had been taught, and we all love it.
Most homeschool curricula (especially at the high school level) are designed for self-learning with parents as the facilitator. You don't have to know everything to homeschool your high schooler. You simply have to be a guide, a coach, and a cheerleader.
Choosing the Right Curriculum to Compensate for Any Deficiencies
If you lack confidence in a particular area, you will want to choose a curriculum that makes up for it. Choose something that will guide your tweens and teens step by step through the course. And consider an all-in-one program such as Sonlight instead of choosing things piecemeal. When everything you needs comes in a single box—including a daily schedule in your Instructor's Guide—homeschooling becomes nearly foolproof.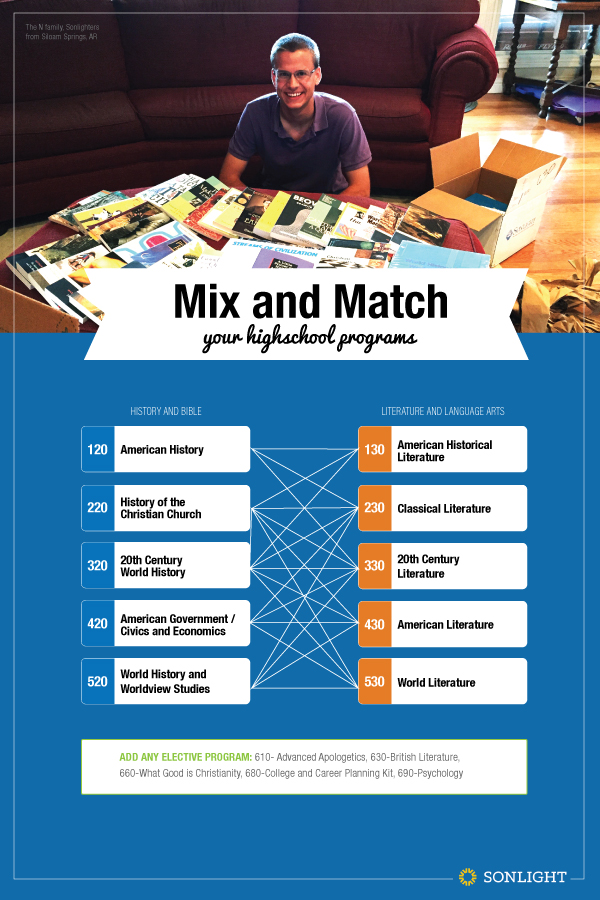 Does Your Lack of Support
Hold You Back from Homeschooling Through High School?
Please hear me when I say you are, without question, capable to successfully educate your student at home all the way to graduation.
no matter your education level
no matter your circumstances
no matter the disapproval of your neighbors or your parents
My own grandmother once asked how I could homeschool since I had dropped out of high school myself. I looked my sweet grandma in the eye and said, "Grandma, I didn't understand how important high school was for my future, but I know that my kid's education is my future. I will do all in my power to make sure they have every opportunity that they wish to take."
Other people's doubt says nothing about who you are.
Resolve to homeschool through high school, and you will find the resources that you need. You may need the help of a homeschool "midwife" along the way. That's why I urge you to get involved with other homeschool families.
When we got ready to begin homeschooling high school, I was in a fairly isolated place in life. Our church of sixteen years had closed. Because I lived in a rural area, the physical distance cut me off from my former church friends. I knew that I was not going to be able to get through the difficulties of homeschooling three teens without support.
We searched out a new local church and landed in one with a healthy homeschool community. It was the best decision we ever made. We love our community. I am supported and give support to other mothers as well.
Find a friend you can trust—a real live person who is genuine and sincere. If you can not find one, be one. Reach out to a mom who has questions about homeschooling. Check out your state homeschool support group and find leaders near you. Forums are great to answer your questions, and Facebook can bring you some good ideas. But when you need to cry on someone's shoulder, you are going to be thankful that you have a people to call on.
As our kids near college, I am overjoyed. I know we made the right decision for our family. We determined to go all the way to graduation—our homeschool finish line. We added the support we needed to get there with sound curriculum choices and community building.
If you are struggling with confidence to homeschool through high school, leave a comment here on this blog post, and I will encourage you!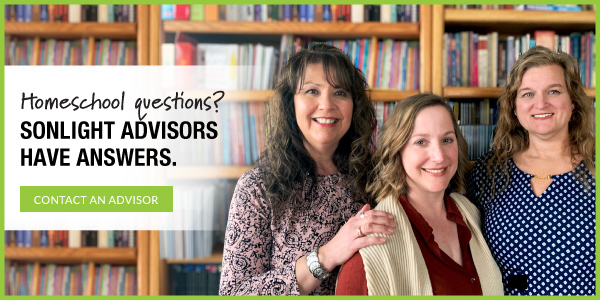 If you need help with homeschooling through high school, we have experienced homeschooling moms who would love to talk to you. Click here to connect with your homeschool consultant.