Ka-thunk! Ka-thunk! Ka-thunk!
The startling noises from the front porch caused the P Family to race down the stairs and gather in the foyer. As the mom and two sisters cautiously opened the front door, they spied not one, not two, but THREE boxes from Sonlight!!
"Wow," Wendy P., the mom said, "Guess we're not in the letters anymore." Indeed, as she enlisted help from the P girls to carry the boxes inside the house, she pondered whether Core 100 derived its name from the weight of the boxes it occupied.
Once the boxes had been lifted, pushed and generally manhandled to the general area of the dining room table, the real fun commenced.
"Let's open the huge one first," shouted Taylor P., the intended recipient of this copious bounty. As she lifted the first volume from the box, she yelled, "Oh!! I have to read the back of this one."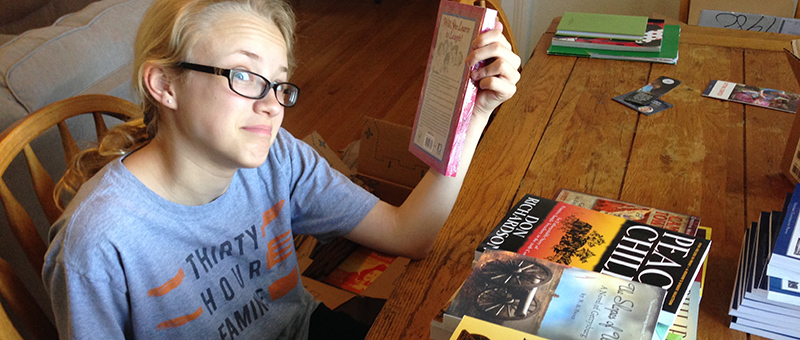 Taylor reading the back of one of her new favorite books
Inside Wendy's head: "This could take some time. After 9 years of this, you would think we could just unpack and GET ON WITH IT!! But then again...why rush? Excitement over great books was one of the goals, wasn't it?"
As the stack of books slowly grew on the table, Taylor realized she has an amazing year of adventure ahead of her.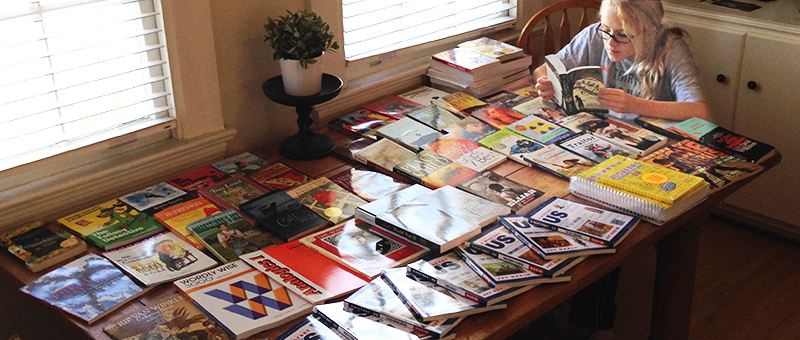 Excited for another amazing year with Sonlight