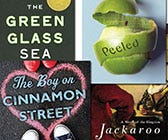 Looking for some fun books for your children to read this summer? We have six new 2013 Summer Reader Sets available for pre-order, as well as all seven of the 2012 sets you may have missed last year.
If you're looking for more great books for your kids to read, this is a great place to start. Remember, if you purchased a Core or Multi-Subject Package in the last year, you'll qualify for a 10% discount and free shipping to the "lower 48." Even if you don't have the Sonlighters Club Benefits, you can still get free shipping if you order $25 or more worth of books.
Check out the new (and returning) Summer Reader Sets from Sonlight.
~Luke Holzmann
Filmmaker, Writer, Empty Nester