"WOW! Can this be mine?"
"I'm going to read ALL these books!" (Fun Tales)
"Can we do this right now?"
"Oh, I have my OWN timeline book like (my brother's) now????"
"Mommy, Can I read this one NOW? (pause) I CAN????" (our 1st grader with a huge smile, running to the couch)
(from my 5 year old, wide-eyed at all the books for his Kindergarten year, in a whispered voice to no one in particular): "This is going to be SO fun!"
"Can we watch 'the purple one DVD' (Discover & Do DVD for Science D) now? OH! This one doesn't have 'the scientist guy' (Justin) on it! It has a scientist MOMMY!"
"Wow! Look at my Math book! It has a K on it for KINDERGARTEN!"
"Mommy, where's MY Math book! I want one with a shark, too!" (repeated by my 3 year old at least 15 times until I searched my shelves and boxes for an outdated book he could call his very own, which he proceeded to write in for an hour AND A HALF, stopping often to show me his "school work.")
"I want to read this one....and this one...and this one..." (Me)
"I could have used this in college." (Me, in reference to interpretative notes in a Core D poetry book!) :)
I just asked my husband, "Hmmm, what did you say yesterday that I can include in our quotes?" He laughed and said, "It was a thought....'Just let me read through this history book already!'" (directed at ME because I interrupted him no less than 18 times to show him MY favorite books while he was planted in the floor studying our son's new Landmark book)
I loved hearing my husband go through the books, stopping to say, "Hey, listen to this!....." (as he read about New Amsterdam and Broadway and Wall Street, among other things)
While I checked the invoice and organized, my guys read the entire Curious George book, listening along with the CDs. (What a great book with notes about the Reys that make us want to head for the library to find his children's book about the stars!)
Thank you for such great selections once again! We are thrilled with our purchases and are so excited about diving into a new year with our guys!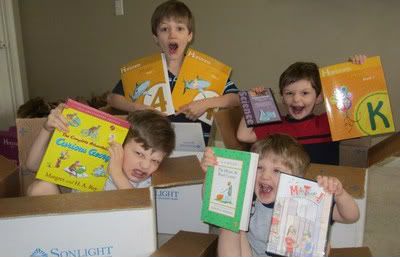 The boys and their favorite picks with "Angry Bird faces" :)
-The C. Family