Today was our box day!! I allowed my kids (Gwyneth 6, Lillian 4, Naomi 3 and Phineas 2) to open the box and look at all the books. They spent the better part of an hour oohing and aahing over everything. We finally packed the paper in one box and the curriculum in another until Mommy has time to sticker them and get them ready to go for the year.
Nap time arrived for the two littlest and quiet time started for the rest of us. I was sitting here on the couch, using my iPad, and I looked up to this most precious sight: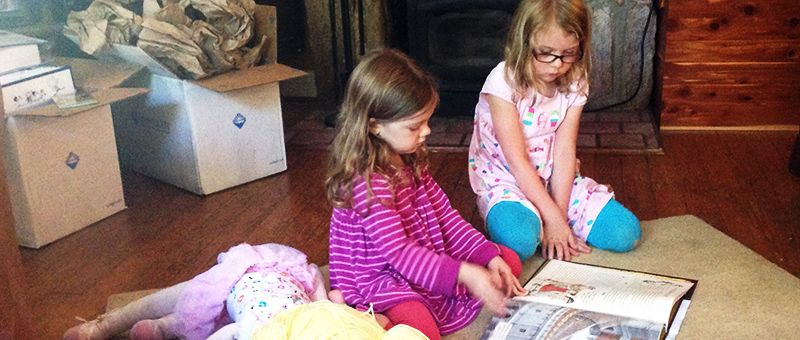 Looking at one of the books together
It wasn't too long before Lillian felt the call of a four year old to go play with her "little people", but my eldest has remained engrossed.
Every now and again she looks back and say, "Mom, these books are so great!"
Gwyneth is perusing her Core B. We're still wrapping up Core A. Getting the next level is going to help give us the extra push we need!!
Lillian and Naomi will be using PreK 3/4, and we'll all be trying to manage the busy little boy!!
Thanks, Sonlight, for all you've done to make our home school experience unforgettable. It's not easy, but its the only thing I want to do. There have been so many times just the right advice comes via a blog post. Thanks for taking the time to write them and link to previous posts. Often I end up on a bunny trail of much needed encouragement.
And this is a bit off topic, but while I'm writing and have another minute, I want to send along my additional thanks for the stellar book choices in your Cores. I can't tell you how many times I have laughed out loud or was too choked up to continue reading as my daughter and I would read together this last year. I have enjoyed so many REAL moments with my children and you've facilitated that.
Many, many blessings to you all.
Agape, Susan C.