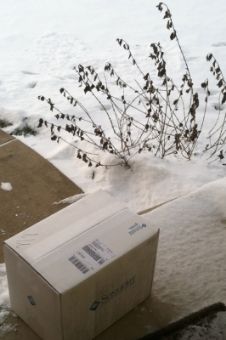 It's our first year of homeschooling and I was definitely more excited than the kids for box day. I kept our schedule open that day, knowing the delivery man could show up at any moment. I wasn't about to miss it! Well it turns out, he wanted to teach me a little lesson in patience. The first box arrived in mid-afternoon, with the second box nowhere to be found! I was imagining our poor little box, lost in that big truck somewhere.
Of course we busted open the first box anyway to find our math and science materials for our Multi-Subject Kindergarten package...but no books. My kids (Adelaide, 5 and Oliver, 2) played with some dominos for awhile and asked to do a science project, but there wasn't much I could do without any more material.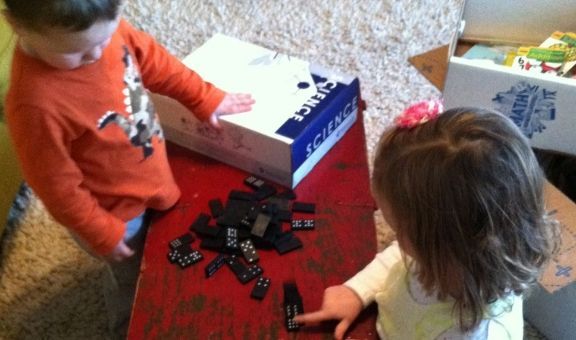 Playing with Dominos
I probably checked the tracking number 20 times before I got the knock on the door. Just before dinner, box #2 arrived. Thank goodness!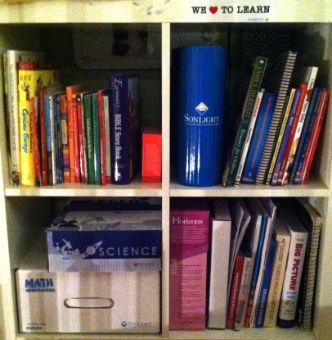 Daddy was home so we had fun pulling out all the books together. As they piled up, it was hard to imagine that we would actually use and cover all this material, but more than anything I just felt a sense of relief. I had been trying to reinvent the wheel with homeschooling, not using an official preschool program, and I was exhausted, frazzled and sick of the last minute library trips and running out of printer ink. I truly felt hopeless and defeated by it all, but committed to the idea of homeschooling. As I stacked all our Sonlight books in our school room, I knew I had made the right decision. I work from home and do not have the time to make sure I am covering everything perfectly, and that the lessons are actually building on something. Sonlight does that for me now! I had planned to wait until January to start our program, but we already did Week 1 Day 1, spreading it out over the weekend to get a feel for it.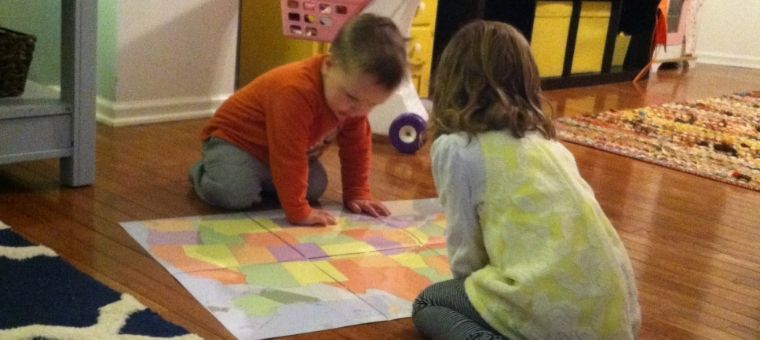 The Start to a Love a Learning
My daughter is smart, but stubborn, and has a hard time sticking with anything. She would rather learn about princesses and Scooby Doo episodes than to sit down and talk about the earth or handwriting or animals. We did read a part of the frog book for science, and she's now calling her brother "frogspawn," so I guess that's making progress! :) This will definitely be a challenge, but I feel if I keep at it, she will eventually learn to love it and won't fight me so much when it's 'time for school.'
Lesli G.