We came to homeschooling late -- pulling my triplets out of public school in mid-6th grade. Selecting curriculum for their first full year of homeschooling was scary and though I spent a large amount of time in the Sonlight booth at our local convention, I had no idea where to plug my kids into the curriculum.
But the idea of Sonlight made so much sense to me -- and made ME excited about school. So the following year, I decided to "dip a toe in the water" and have my now-8th graders use the Eastern Hemisphere curriculum for their Social Studies component. From day one, my students were invested in the people groups they were learning about; able (and eager) to discuss their studies and the books they were reading.
So, this year as I prepare for the trio to begin 9th grade and our littlest to begin 1rst....I didn't even wait for the convention. I called Sonlight and ordered the Multi-subject First Grade curriculum for my little one....and the Core 100 for my older kids -- adding the Biology component.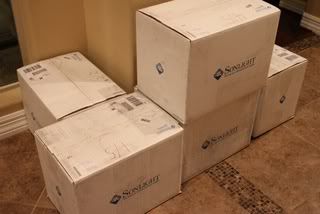 Sonlight Boxes
When the boxes arrived this weekend, we could not open them fast enough! My 14-year-olds were drooling over the first grader's curriculum -- wishing they had started school with so many amazing books! My husband was taking apart the dissection kits and getting the boys very excited about Biology. As my 14-year-old daughter finally just sat down in the middle of all the books and boxes with a stack of books in her lap to read, my 5-year-old looked at me and said, "Do I get to start first grade TOMORROW?!!!!"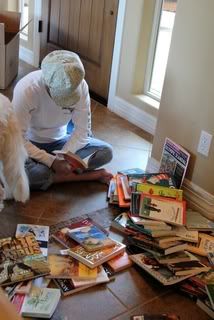 Can't Wait to Start School
When I finally needed to get the books organized and put on the shelves, Dad took the boxes and made the castle printed on the inside. Four days later, my Cate is still asking if she can go play in her castle periodically throughout the day!!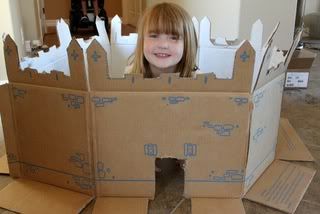 Sonlight Box Castle
Thanks, Sonlight! We are eager for our school year to begin!!
-Carol S.