We are in our 3rd year of homeschooling. Currently we have a 6 year old boy and two girls ages 4 and 1. We had been looking a Sonlight for a few years, but the price was higher than the other curriculums we were considering. Our first year we opted to piece a curriculum together. Well, after a year of that we decided that was taking too many hours of our time to plan and still cost us a small fortune in supplements.
The next year we went with a literature based curriculum, and the low price enticed us! The company insisted we could supplement with books from our library. They had a list of a few hundred books! We tried it out and found, even though we have a good interlibrary system, they generally did not have the books at all, or if they did they were checked out already.
We took another look at Sonlight and since we had many of the books already, decided to use the instructors guide and buy the books elsewhere. We gathered the books we already had and went online to look for all the books we still needed. Imagine our surprise when the total came up to more than purchasing directly from Sonlight!! After a good laugh, we ordered the Preschool 3/4 Core! Our 4 year old began rushing to the door every time someone knocked just in case it was her box!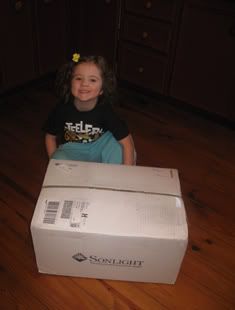 Waiting Patiently
She waited as patiently as she could for everyone to get home so she could open it!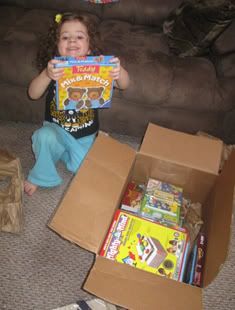 Ready to Start
She was thrilled and wanted to start school right away! We have also found that purchasing duplicate books is so helpful. Our 4 year old is ecstatic to have her own copies of books that we already had. We hear a lot of "I've got Go Dog Go, just like you Billy!" We've also noticed our 1 and 6 year old come running when it's time to read our P3/4 books.
We surprised our 6 year old and ordered him the elementary boys summer readers! He immediately started reading, and is now looking forward to his own box day in a few months when we start him in Core B.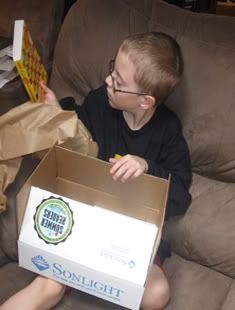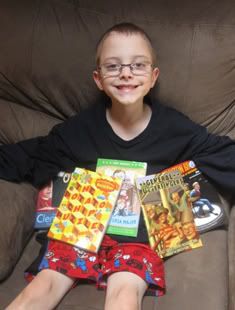 Summer Readers
In just 3 days he has finished the Brixton Brothers book.
Jenna H.